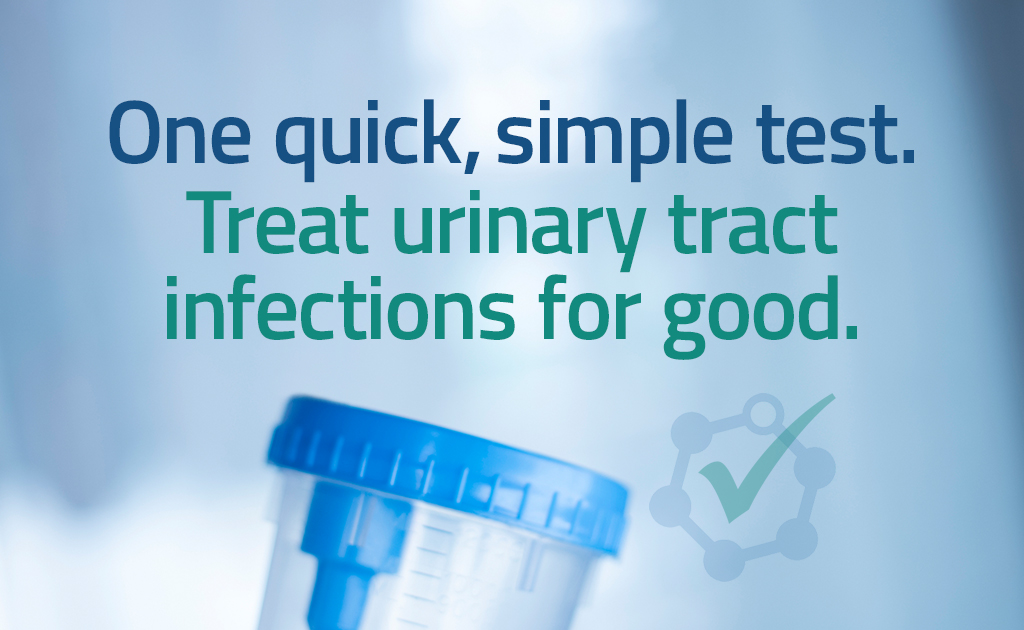 Urinary tract infections happen for many different reasons. Unfortunately, many UTI tests like traditional urine culture may not detect all the bacteria or even find all the possible causes for the infection. So what happens? UTIs often get treated to relieve symptoms but not for the real underlying reason - and then infections can continue to come back. At AUS, we have a unique, simple test that can help detect the bacteria that cause these infections.

A quick, accurate test for urinary tract infections (UTI)
We start with a quick urine sample. But then we look harder than most. Studies show that standard urine culture may miss more than 50% of infections, leaving many people with false-negative results. Our Guidance® UTI Test more accurately identifies not only the more common bacteria, but also the uncommon bacteria that other available tests would not detect - including fungi and viruses. The comprehensive tests include sensitivity results along with identifying genes for antibiotic resistance so we can tailor your treatment to your specific infection.
Don't let a UTI treatment drag out longer than it should. And make sure it won't come back.
UTIs are extremely uncomfortable and the last thing you want is to be waiting around for results to come back. Fortunately, AUS has its own lab, so we are able to provide results three to four times faster than most. Cultures from other tests can take 42-72 hours. At AUS, results can be turned around in less than a day – some patients even get their results within 12 hours. With 17 Board-Certified Urologists at 7 different locations, we are even able schedule a quicker appointment time.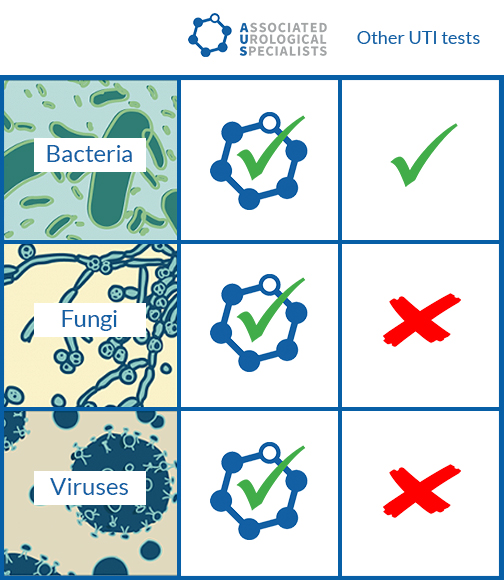 Patients with symptoms consistent with:
Recurrent UTI
Interstitial cystitis
Pyelonephritis
Prostatitis
At-risk groups:
Pregnant
Elderly
Diabetic
On chronic pain care regimens
Immunosuppressed
Men with UTIs
Past urinary culture results were "contaminated"
or negative
Call us today or request a UTI appointment below.
UTI tests must be done in person at one of our clinics.
Guidance® UTI Tests at AUS are in Southside Chicago and Northwest Indiana.
Guidance UTI test can be performed quickly at any of our AUS offices. They are conveniently located in Chicago Ridge, Evergreen Park, Homewood, Orland Park and Palos Hills.
Advanced urology procedures, like UTI tests, are done best at AUS.
Patients from Morris, Joliet and New Lenox have learned the most advanced urology procedures, like Guidance® UTI tests, are done at AUS.
Never a long drive for accurate UTI tests and results.
Patients don't have to travel more than a few minutes for a Guidance® UTI test if they are coming from Alsip, Bedford Park, Blue Island, Bridgeview, Burbank, Calumet Park, Chicago Heights, Country Club Hills, Crestwood, Englewood, Glenwood, Harvey, Hickory Hills, Homer Glen, Matteson, Midlothian, Mokena, Oak Lawn, Oak Forest, Olympia Fields, Orland Hills, Park Forest, Roseland, South side, South Holland and Tinley Park.
Guidance® UTI Tests are done by the best Board-Certified Urologists.
Patients having Guidance® UTI Tests done at AUS come from Bolingbrook, Brighten Park, Burnham, Burr Ridge, Calumet City, Countryside, Crystal Lawns, Crest Hill, Darien, Dolton, Fairmont, Frankfort, Gage Park, Gillets, Hammond, Hinsdale, Hyde Park, Ingalls Park, Lansing, Lynwood, La Grange, Lemont, Lockport, Munster, Palisades, Richton Park, Riverdale, Romeoville, Sauk Village, South Shore, South Chicago, Westmont, Whiting, Willowbrook and Woodridge.