Jayant Ginde, M.D., F.A.C.R.O.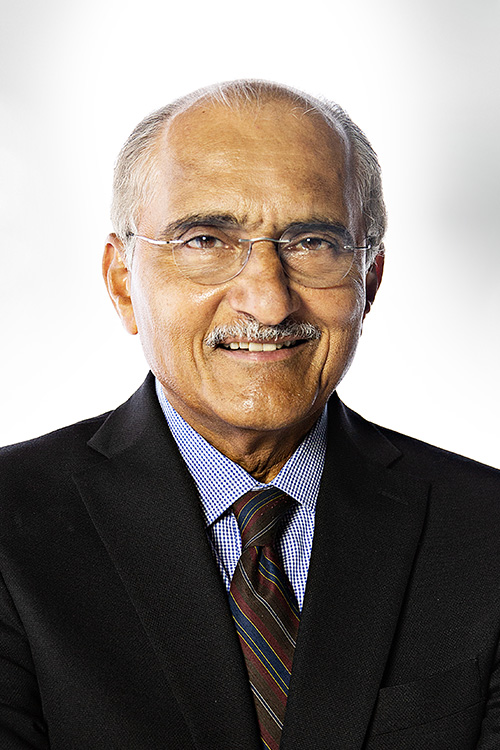 Dr. Jay V. Ginde
Radiation Oncologist
Dr. Jayant Ginde is one of the principal radiation oncologists at AUS. He has been serving the southwest Chicago and South and southwest suburban community for more than 35 years. After graduating from medical school, Dr. Ginde worked in general surgery, and completed his transitional residency at Cook County Hospital in Chicago. This was followed by residency in general radiology and nuclear medicine followed by additional residency in therapeutic radiology at the University of Illinois at Chicago.
Dr. Ginde is a member of the Chicago and Illinois State Medical Society, American Society of Clinical Oncology (ASCO), American Society for Therapeutic Radiology and Oncology (ASTRO) and a Fellow of the American College of Radiation Oncology. He has served as the chairman of cancer committees and moderator of multi-disciplinary cancer conferences at various area hospitals.
"I have seen the treatment of cancer evolving over the past 40 years with new innovations, discoveries and techniques which have been challenging and also rewarding to me," Dr. Ginde states. "We have much more understanding of prostate cancer now than we did a few years ago."
Dr. Jay (as patients sometimes call him) stresses, "Not all prostate cancers are alike. Treatment of prostate cancer is now complex and yet safe as we add new technology, new treatment options and molecular genetics for personalized care of an individual with prostate cancer. I believe in the multidisciplinary management of cancer, which means more than just providing medical or radiation therapy treatment. I believe firmly in patient education, which means helping you understand your condition, answering your questions and putting you in touch with community resources. We make your fight against cancer a team effort."
"Cancer can be a frightening experience and patients and their families have so many questions. Counseling, individual cancer education, answering questions and offering access to support services is our major focus and is just as important as the treatment of cancer itself."
Dr. Ginde's philosophy for the treatment of cancer? Guided by science, Driven by compassion and dedicated to service and excellence!
Best Doctors list in US News and World report - 2013.
Best Doctors of Chicago by Chicago Magazine on a regular basis since year 2000, including 2020 and 2021.
Education
Fellowship: American College of Radiation Oncology
Residency: Transitional residency at Cook County Hospital in Chicago. General radiology, nuclear medicine and therapeutic radiology at University of Illinois at Chicago
Board-Certification
Radiology and Radiation Oncology
Office Locations for Dr. Jay Ginde
AUS Center for Prostate Cancer
10400 Southwest Highway, Lower Level
Chicago Ridge, IL 60415
AUS Board-Certified Urologists