Dr. Aaron Berger Recognized as Center of Excellence for SpaceOAR Hydrogel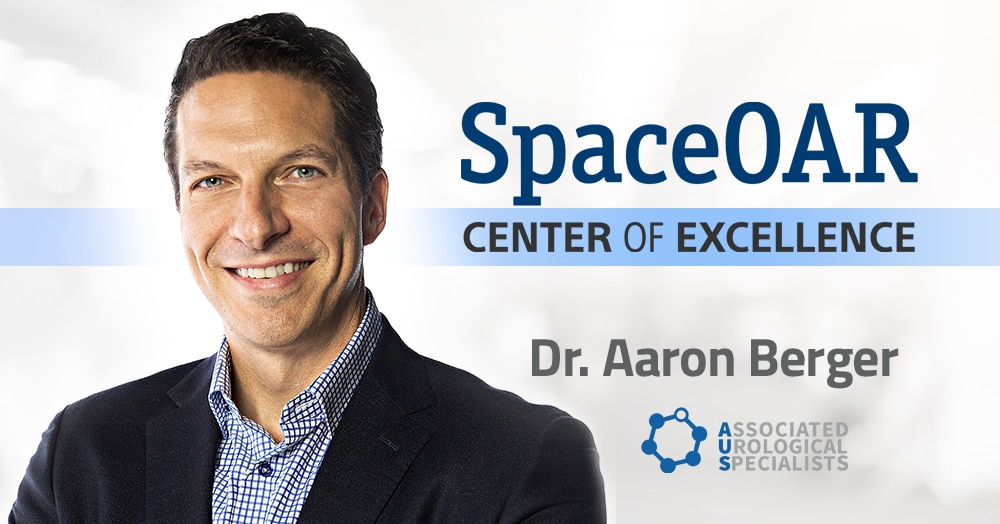 Associated Urological Specialists today announced that Dr. Aaron Berger has been designated as a Center of Excellence for SpaceOAR™ Hydrogel – a device manufactured by Boston Scientific and designed to reduce the radiation dose delivered to the rectum during prostate cancer radiation treatment. The Center of Excellence designation recognizes Dr. Berger with a high degree of experience applying SpaceOAR Hydrogel* and commitment to minimizing the impact on urinary, sexual and bowel quality of life for prostate cancer patients undergoing radiation therapy.3
Prostate cancer is the second most commonly diagnosed cancer in American men behind skin Cancer, and more than 3.1 million living in the country have been diagnosed with the disease.4 Prostate cancer can be treated through several options, but each year, more than 60,000 patients treat their prostate cancer with radiation therapy, contributing to a nearly 100% five-year survival rate for individuals with the condition.4,5
"Being designated as a SpaceOAR Hydrogel Center of Excellence is an important recognition for us, and further supports our efforts to deliver the highest-quality treatment possible for prostate cancer patients in South Chicagoland," said Aaron D. Berger MD, VP and Chief Medical Officer at Associated Urological Specialists. "Radiation therapy is an excellent treatment option for many patients with prostate cancer, but some patients may remain hesitant due to potential side effects that can occasionally impact their quality-of-life following treatment. SpaceOAR Hydrogel can complement the patient's radiation treatment to preserve healthy tissue and help maintain quality of life."
Due to the rectum's close proximity to the prostate, it can become unintentionally damaged during therapy, leading to issues with bowel function.1 SpaceOAR Hydrogel is designed to push the rectum away from the prostate, reducing the radiation dose delivered to the organ, which may lessen damage to the rectum.2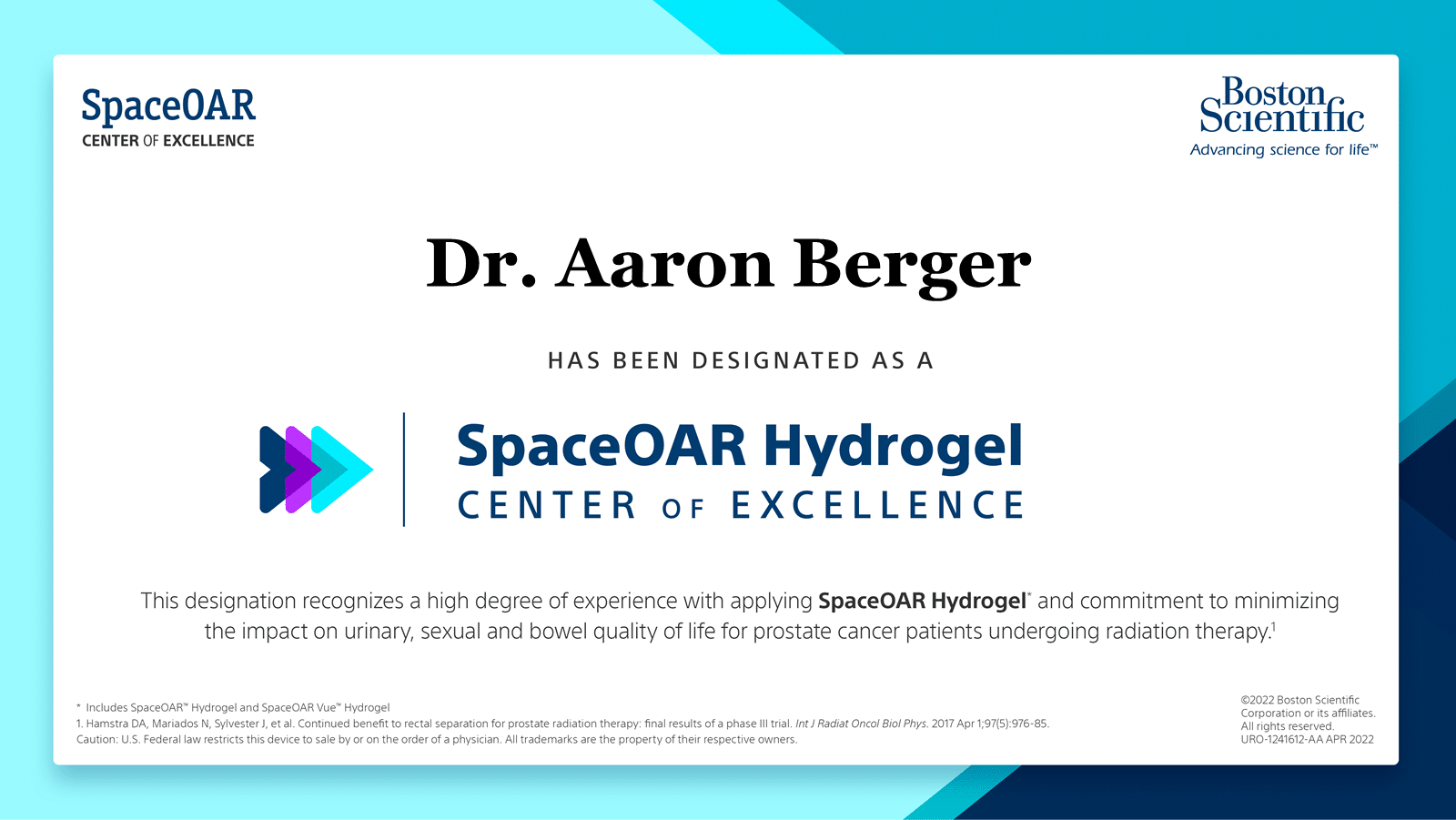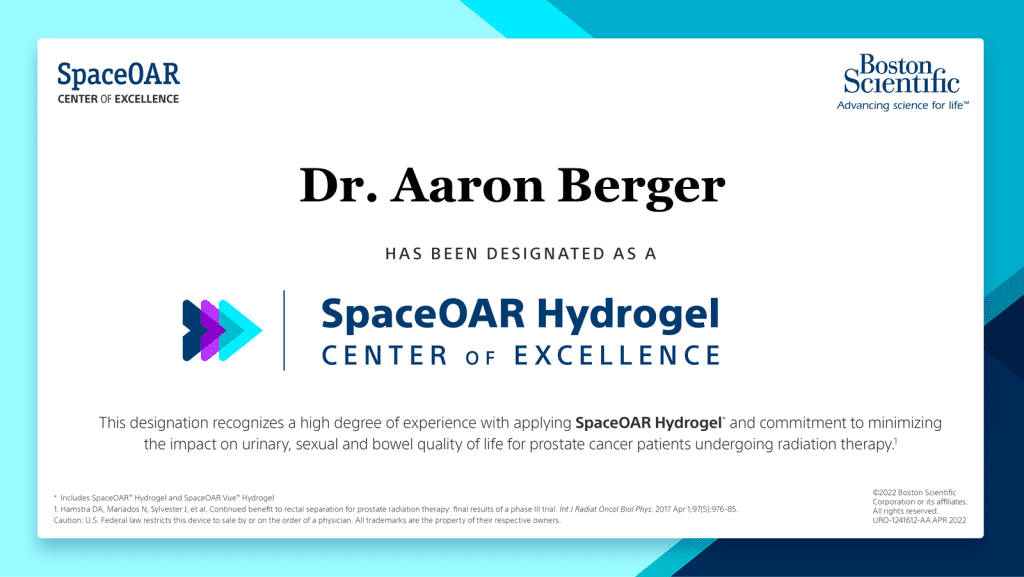 SpaceOAR Hydrogel is made primarily of water and polyethylene glycol (PEG), a compound used in most
implants, and naturally leaves the body after approximately six months.2 A healthcare professional can implant SpaceOAR Hydrogel, a minimally invasive outpatient procedure, in an office, hospital, clinic or surgery center and, typically, patients can go back to normal activities soon after the procedure.6**
In addition to SpaceOAR Hydrogel, Associated Urological Specialists also offers SpaceOAR Vue™ Hydrogel, the next-generation of the device that can be seen on computerized tomography (CT) scans, negating the need for physicians to include magnetic resonance imaging (MRI) in treatment planning, and accommodating patients who are contra-indicated for MRI. SpaceOAR Vue Hydrogel is a radiopaque version of the technology designed to help physicians improve contouring accuracy and consistently position patients receiving prostate cancer radiation.
Clinical data has demonstrated the benefits of SpaceOAR Hydrogel, including a reduction in rectal injury, resulting in maintained bowel function and a higher likelihood of maintaining urinary and sexual function.6 SpaceOAR Hydrogel received 510(k) clearance from the FDA in 2015, and has been used in more than 150,000 procedures worldwide.7
---
Associated Urological Specialists (AUS) is a unified group of Urologists and related specialists committed to providing comprehensive urological care to patients and their families around southwest Chicago and northwest Indiana. AUS has placed a tremendous emphasis on bringing together a highly dedicated and skilled set of Board-Certified professionals, equipped with the latest state of the art tools and techniques, to deliver a full range of urological care. Their entire team of physicians and staff are fully dedicated to providing state-of-the-art, compassionate and convenient urological care throughout Chicagoland and beyond.
For more information, visit SpaceOAR.com.
* Includes SpaceOAR Hydrogel and SpaceOAR Vue Hydrogel
** Results from case studies are not necessarily predictive of results in other cases. Results in other cases may vary.
Mayo Clinic. External Beam Radiation for Prostate Cancer. Available at: https://www.mayoclinic.org/tests-procedures/external-beamradiation-for-prostate-cancer/about/pac-20384743. Accessed February 2022.
Boston Scientific. How Does SpaceOAR Hydrogel Work? Available at: https://www.spaceoar.com/about-spaceoar-hydrogel/how-spaceoar-hydrogel-works/. Accessed February 2022.
Hamstra DA, Mariados N, Sylvester J, et al. Continued benefit to rectal separation for prostate radiation therapy: final results of a phase III trial. Int J Radiat Oncol Biol Phys. 2017 Apr 1;97(5):976-85.
Prostate Cancer Foundation. Treatment for Prostate Cancer: External-Beam Radiation Therapy. Available at: https://www.pcf.org/c/treatment-for-prostate-cancer-external-beam-radiation-therapy/. Accessed February 2022.
American Cancer Society. Survival Rates for Prostate Cancer. Available at: https://www.cancer.org/cancer/prostate-cancer/detection-diagnosis-staging/survival-rates.html. Accessed February 2022.
Hamstra DA, Mariados N, Sylvester J, et al. Sexual quality of life following prostate intensity modulated radiation therapy (IMRT) with a rectal/prostate spacer: Secondary analysis of a phase 3 trial. Pract Radiat Oncol. 2018 Jan-Feb;8(1):e7-e15.
Data on file with Boston Scientific. Number of patients is based on units shipped and a BSC proprietary algorithm.