Dr. Raj Patel published in article by Live UTI Free.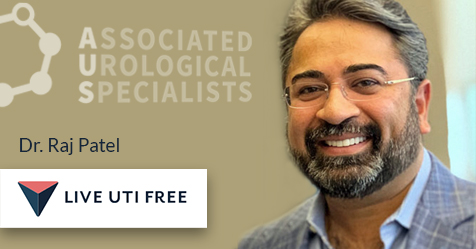 Interstitial Cystitis testing and recurrent UTI treatment are big topics at Live UTI Free. In a recent interview with Dr. Raj Patel, a board-certified urologist at Associated Urological Specialists (AUS), they recently covered the uses of molecular testing as a tool to get to the bottom of many issues related to the urinary tract.
"In our office, where we have adopted molecular testing, we find far fewer patients are labeled with Interstitial Cystitis now than when I started practicing 20 years ago, because we're looking for solutions rather than treating them with a barrage of different things that we used to use for IC. I think it would definitely be worthwhile to rule out some more simple things that could help resolve their situation." Raj Patel, MD
The insightful chat in the article will lead the reader through possible underlying causes for chronic bladder conditions and how important it is to address these, while also treating infection.
"Urinary tract infections were one of those problems in urology that really hadn't received enough attention. We were one of the first practices that adopted Guidance UTI. This snowballed into us using it more and more as we came to understand the benefits of it for our patients, as well as our physicians. We then partnered with Pathnostics to create a lab in Chicago so we were able to decrease the turnaround time to close to about 24 hours, which is great for patients." Raj Patel, MD
The full article, written by Melissa Kramer, can be read here: https://liveutifree.com/interstitial-cystitis-testing/