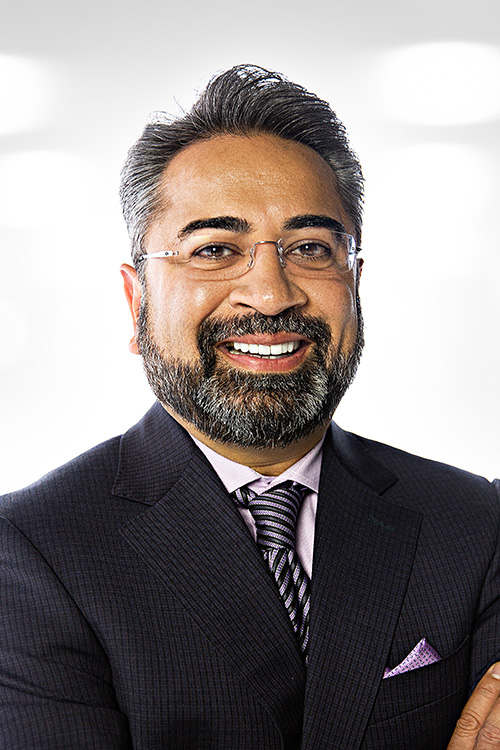 Dr. Rajesh Patel
Board-Certified Urologist
Dr. Rajesh (Raj) Patel has participated in various research projects and contributed to many scientific publications on the subject of urology and like topics. A recognized leader in his field, Dr. Patel has presented to many professional society meetings over the years. He has won numerous honors and awards in Urology, including First Place in the Harry W. Schoenberg Basic Science Research competition and has been featured in several publications.
Dr. Patel is the current President and former Chief Medical Officer of Associated Urological Specialists (AUS). His other titles include both Medical Director of Robotic Surgery and Governing Council Member of Advocate Aurora South Suburban Hospital. He is also a clinical associate in the section of urology at the University of Chicago.  His other titles have included Past Vice Chairman of Surgery at Advocate South Suburban Hospital and Past Chairman of Surgery at UChicago Medicine Ingalls Memorial.
Top Doctor Award – Top Urologist (2018)
Education
University of Chicago Medical Center, Chicago, IL
Training in adult and pediatric urology. Research in the sections of urology and plastic and reconstructive surgery. Training in general surgery.
Albany Medical College, Albany, NY
Combined six-year B.S. and M.D. program

Rensselaer Polytechnic Institute, Troy, NY
B.S. Biology, graduated Magna Cum Laude
Board-Certification
PUBLICATIONS
Pearson TA, Patel RV. The quest for a cholesterol-decreasing diet: should we subtract, substitute, or supplement? Ann Intern Med, 119: 627-628, 1993
Pearson TA, Patel RV. Food policy, obesity and diet modification strategies. Adult Health Priorities in the New Independent States, National Research Council of the National Academy of Sciences, National Academy Press, Washington, D.C., 1995
Christiano AP, Hollowell CMP, Kim H, Kim J, Patel R, Bales GT, and Gerber GS. A double blind randomized comparison of single dose ciprofloxacin vs. intravenous cefazolin in patients undergoing outpatient endourologic surgery. Urology, 55: 182-185, 2000
Hollowell CMP, Patel RV, Bales GT, and Gerber GS. Internet and postal survey of endourologic practice patterns among American urologists. J Urol, 163: 1779-1782, 2000
Kuznetsov DD, Kim HL, Patel RV, Steinberg GS and Bales GT. Comparison of artificial urinary sphincter and collagen for post radical retropubic prostatectomy incontinence. Urology, 56: 600-603, 2000
Kim HL, Hollowell CMP, Patel RV, Bales GT, Clayman RV and Gerber GS. The use of new technology in endourology and laparoscopy by American urologists: internet and postal survey. Urology, 56: 760-765, 2000
Kim HL, Gerber GS, Patel RV, Hollowell CMP and Bales GT. Practice patterns in the treatment of female urinary incontinence: a postal and internet survey. Urology, 57: 45-48, 2001
O'Connor RC, Patel RV, and Steinberg GD. Successful repair of a uretero-neobladder stricture using porcine small intestine submucosa (PSIS).
J Urol, 165: 1195, 2001
Kim HL, Patel RV, Miner T, Hansen T, LaBarbara M, Cromie WJ and Bales GT. Comparison of the durability of autologous and cadaveric fascia using an in vivo model. J Urol, 58: 800-804, 2001
Katz EE, Patel RV, Sokoloff MM, Vargish T, and Brendler CB. Bilateral laparoscopic inguinal hernia repair can complicate subsequent radical retropubic prostatectomy. J Urol, 167: 637-638, 2002
O'Connor RC, Kuznetsov DD, Patel RV, Galocy RM, Steinberg GD, and Bales GT. Artificial urinary sphincter placement in men following cystectomy with orthotopic ileal neobladder: continence, complications and quality of life. Urology, 59: 542-545, 2002
ABSTRACTS
Christiano AP, Kirsh E, Patel R, Hollowell CMP, and Gerber GS. A Double Blind, Randomized Comparison of Preoperative Oral Ciprofloxacin vs. Intravenous Antibiotics in Patients undergoing Routine Outpatient Endourologic Surgery. J Endourology, 1998
Patel RV, Cromie WJ, Hannig J, and Lee RC. Administration of Poloxamer 188 decreases testicular free-radical mediated reperfusion injury. J Urol, 161(4): 163, 1999
Bales GT, Patel RV, and Kuznetsov DD. A comparison of collagen versus artificial urinary sphincter using a validated symptom severity index.J Urol, 161(4): 310, 1999
Patel RV, Unnerstall JR, Niederberger C, and Cromie WJ. A novel technique for assessing ischemia-reperfusion injury using autoradiography and computer enhanced image processing. J Urol, 161(4): 346, 1999
Patel RV, Kim JC, Palmer J, and Cromie WJ. Surfactants reduce contralateral testicular injury after unilateral ischemia-reperfusion injury. J Urol, 163(4): 136, 2000
Kim JC, Hannig J, Patel RV, Lee R, and Cromie WJ. Protection of seminiferous tubules from free-radical induced injury. J Urol, 165(5): 85, 2001
Office Locations for Dr. Raj Patel
Latest Testimonials for Dr. Raj Patel
"We have a good doctor-patient relationship!, he listens well!, makes good judgement calls, but makes you feel what you say! is important!, & has relevance!"
- May 8, 2020
"Dr. Patel is the real deal! A true Godsend - literally!"
- May 8, 2020
"Doctor Patel was very thorough and walked me through the procedure. The staff was awesome and put me at ease."
- May 8, 2020
"Dr. Patel is very good at his craft. Honest, efficient and good advice. Keep it up!"
- May 1, 2020
"He is professional, exhibits cordiality and is thorough."
- May 1, 2020
AUS Board-Certified Urologists