Associated Urological Specialists Appoints Aaron Berger, MD as Chief Medical Officer and Vice President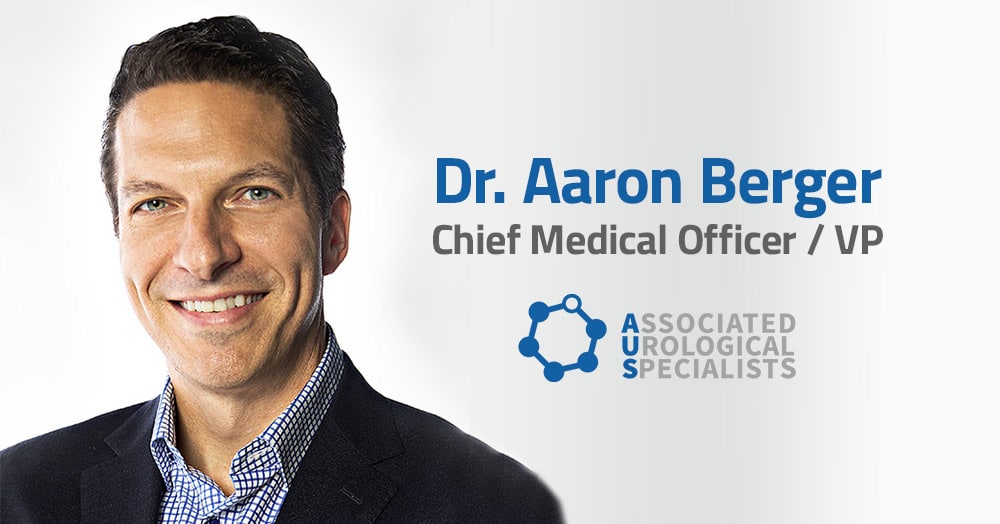 Appointment Reflects the Strength of AUS Growth and Leadership Role in Midwest.
ALSIP, IL (October 14, 2021) – Aaron Berger, M.D., has been named chief medical officer and vice president of Associated Urological Specialists.
In his new role, Dr. Berger is a key member of the executive team and will play a pivotal role in providing medical oversight, expertise and leadership to ensure the continued delivery of advanced urological care throughout Chicagoland and Northwest Indiana.
"It's a tremendous honor to be selected for this position," Dr. Berger said. "I look forward to serving and supporting the medical needs of our community with this role."
Dr. Berger joined Associated Urological Specialists in 2008 and sees patients in its Chicago, Chicago Ridge and Orland Park offices. He replaces Dr. Rajesh Patel as CMO, who held the position the past few years in tandem with serving as president. After tremendous growth during the past few years, Dr. Patel chose to transition the CMO role to Dr. Berger and continue his full-time role as president.
"We are delighted to formally appoint this responsibility to Dr. Berger," said Dr. Rajesh Patel, president. "We have valued his leadership style, successful track record of improving quality and patient care, and the unique perspective he brings to our leadership team."
Dr. Berger has a special interest in prostate cancer from robotic surgery to state of the art treatments of advanced and metastatic prostate cancer. "Under his guidance," says Ryan Weber, COO. "The AUS Cancer Center was found to have one of the highest rankings in the entire country. He also has extensive experience in BPH procedures such as Urolift, Rezum, and Greenlight laser therapy." Dr. Berger is also fellowship trained in complex kidney stones and also has an interest in ED and penile implant surgery.
Aaron D. Berger, M.D. earned his Bachelor of Science degree from the University of Wisconsin with a major in biochemistry and molecular biology. Dr. Berger attended medical school at the David Geffen School of Medicine at University of California Los Angeles to earn his M.D. He completed his residency in Urology at the NYU Langone Medical Center in New York. Dr. Berger completed a fellowship at the University of California San Francisco in Laparoscopy, Endourology and Robotic Surgery.
Dr. Berger is married and has two daughters and enjoys spending time with his family and traveling as much as possible. He loves skiing, biking, exercising, watching movies, and trying new restaurants. He is also a huge sports fan and rowed on the crew team at UW Madison.
••••
About Associated Urological Specialists
Associated Urological Specialists (AUS) is a unified group of Urologists and related specialists committed to providing comprehensive urological care to patients and their families around southwest Chicago and northwest Indiana. AUS has placed a tremendous emphasis on bringing together a highly dedicated and skilled set of Board-Certified professionals, equipped with the latest state of the art tools and techniques, to deliver a full range of urological care. Their entire team of physicians and staff are fully dedicated to providing state-of-the-art, compassionate and convenient urological care throughout Chicagoland and beyond.
Visit www.auspecialists.com