Dr. Raj Patel on UTI testing, diagnosis and treatment.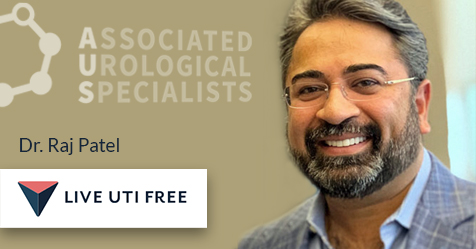 A UTI treatment can be hit or miss, depending on how the patient is tested. In a section of the article titled, 'Antibiotic Susceptibility Testing For Recurrent UTI With Pathnostics' published by Live UTI Free, Dr. Raj Patel shares numerous insights into the testing, diagnosis and treatments of urinary tract infections. The following is one example.
An unsuccessfully treated UTI is frustrating for sufferers, but it's also frustrating for clinicians who want to help.
We often hear from clinicians seeking answers for patients that:
Have taken multiple rounds of antibiotics with little or no improvement, and have experienced other health issues due to overuse of antibiotics.
Receive test results that identify one or more pathogens and antibiotic sensitivity, yet the recommended treatment is ineffective.
Receive negative urine culture results despite obvious symptoms of a urinary tract infection.
Have urinary tract infections caused by antibiotic resistant bacteria.
"Plenty of studies show that urine culture is not an adequate test. It's an archaic test. One of the biggest benefits from the Pathnostics Guidance test is it can identify bacteria within 24 hours, meaning we won't have the abuse of antibiotics we've had in the past. I have patients that have been treated over and over and just haven't been able to identify the true culprit. In some cases we are successful treating them with empiric antibiotic therapy. Without a doubt, I've had more success in treatment with Guidance." – Rajesh Patel, MD, Associated Urological Specialists.
The full article, written by Melissa Kramer, can be read here: https://liveutifree.com/interstitial-cystitis-testing/