Urinary Tract Infection (UTI)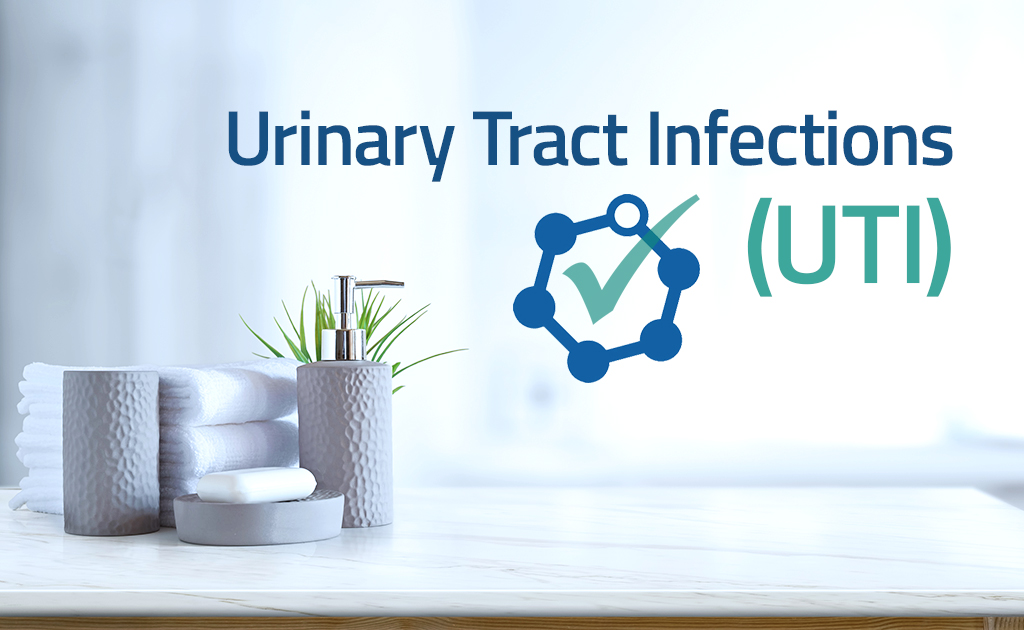 What is a Urinary Tract Infection (UTI)?
A urinary tract infection (UTI) is an infection in any part of your urinary system. That can include your kidneys, ureters, bladder and/or your urethra. Most infections involve the lower urinary tract — the bladder and the urethra.
What causes a Urinary Tract Infection (UTI)?
There are many different causes of urinary tract infection and they happen in both men and women. In general however, they are more common in women and many women experience more than one infection during their lifetimes. Most infections result from the bacteria around the urethra ascending into the bladder.
Infection of the bladder (cystitis). This type of UTI is usually caused by Escherichia coli (E. coli), a type of bacteria commonly found in the gastrointestinal (GI) tract. However, sometimes other bacteria are responsible. Sexual intercourse may lead to cystitis, but you don't have to be sexually active to develop it. All women are at risk of cystitis because of their anatomy — specifically, the short distance from the urethra to the anus and the urethral opening to the bladder.
Infection of the urethra (urethritis). This type of UTI can occur when GI bacteria spread from the anus to the urethra. Also, because the female urethra is close to the vagina, sexually transmitted infections, such as herpes, gonorrhea, chlamydia and mycoplasma, can cause urethritis.
Infections limited to your bladder can be painful and annoying. However, serious consequences can occur if a UTI spreads to your kidneys, so it is important to diagnose and treat a urinary tract infection correctly. Infections can also be the result of stones, foreign bodies, hormonal changes, and poor bladder emptying.
Risk factors Specific to Women
Urinary tract infections are common in women. Risk factors specific to women for UTIs include:
Female anatomy. A woman has a shorter urethra than a man does, which shortens the distance that bacteria must travel to reach the bladder.
Sexual activity. Sexually active women tend to have more UTIs than do women who aren't sexually active. Having a new sexual partner also increases your risk.
Certain types of birth control. Women who use diaphragms for birth control may be at higher risk, as well as women who use spermicidal agents.
Menopause. After menopause, a decline in circulating estrogen causes changes in the urinary tract that make you more vulnerable to infection.
Other risk factors for UTIs include:
Urinary tract abnormalities. Babies born with urinary tract abnormalities that don't allow urine to leave the body normally or cause urine to back up in the urethra have an increased risk of UTIs.
Blockages in the urinary tract. Kidney stones or an enlarged prostate can trap urine in the bladder and increase the risk of UTIs.
A suppressed immune system. Diabetes and other diseases that impair the immune system — the body's defense against germs — can increase the risk of UTIs.
Catheter use. People who can't urinate on their own and use a tube (catheter) to urinate have an increased risk of UTIs. This may include people who are hospitalized, people with neurological problems that make it difficult to control their ability to urinate and people who are paralyzed.
A recent urinary procedure. Urinary surgery or an exam of your urinary tract that involves medical instruments can both increase your risk of developing a urinary tract infection.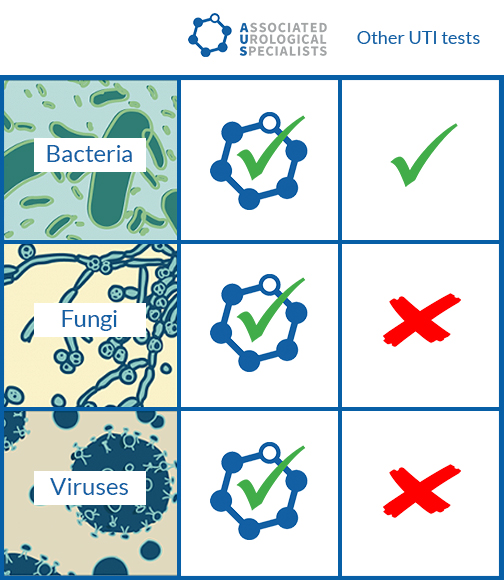 How are urinary tract infections evaluated?
The mainstay in diagnosing and properly treating a UTI is a urinalysis and urine culture. The urinalysis in a patient with a UTI often shows white blood cells or leukocytes, red blood cells, and on dipstick examination, can be nitrite positive which is a sign of infection. The urine culture will identify the specific organism and the lab will then test several antibiotics to determine which ones will work to treat the infection.
In patients with recurrent or severe infections, abdominal imaging of the kidneys, ureters, and bladder is often also performed to look for stones or other sources of infection in the urinary tract.
Learn more about the Guidance® UTI Test we use at AUS.
Call us today or request a UTI appointment below.
UTI tests must be done in person at one of our clinics.
Urinary Tract Infection (UTI) Tests & Treatments at AUS are in Southside Chicago and Northwest Indiana.
UTI tests & treatments can be performed quickly at any of our AUS offices. They are conveniently located in Chicago Ridge, Evergreen Park, Homewood, Orland Park and Palos Hills.
Advanced urology procedures, like UTI tests & treatments, are done best at AUS.
Patients from Morris, Joliet and New Lenox have learned the most advanced urology procedures, like UTI tests & treatments, are done at AUS.
Never a long drive for accurate UTI tests, treatments and results.
Patients don't have to travel more than a few minutes for UTI tests & treatments if they are coming from Alsip, Bedford Park, Blue Island, Bridgeview, Burbank, Calumet Park, Chicago Heights, Country Club Hills, Crestwood, Englewood, Glenwood, Harvey, Hickory Hills, Homer Glen, Matteson, Midlothian, Mokena, Oak Lawn, Oak Forest, Olympia Fields, Orland Hills, Park Forest, Roseland, South side, South Holland and Tinley Park.
UTI tests & treatments are done by the best Board-Certified Urologists.
Patients having UTI tests & treatments done at AUS come from Bolingbrook, Brighten Park, Burnham, Burr Ridge, Calumet City, Countryside, Crystal Lawns, Crest Hill, Darien, Dolton, Fairmont, Frankfort, Gage Park, Gillets, Hammond, Hinsdale, Hyde Park, Ingalls Park, Lansing, Lynwood, La Grange, Lemont, Lockport, Munster, Palisades, Richton Park, Riverdale, Romeoville, Sauk Village, South Shore, South Chicago, Westmont, Whiting, Willowbrook and Woodridge.