da Vinci Robotic Prostatectomy


Minimally Invasive Approach for Prostate Cancer
Most radical prostatectomy cases are now performed with the assistance of the da Vinci Robotic Surgical System, which offers a minimally invasive approach with only several tiny incisions rather than a large incision in the lower abdomen. The da Vinci robotic prostatectomy allows for a faster recovery and fewer side effects than traditional open surgery so patients get back to their normal routine as quickly as possible. Most patients can go home the next day and resume full activities in as little as 3 weeks.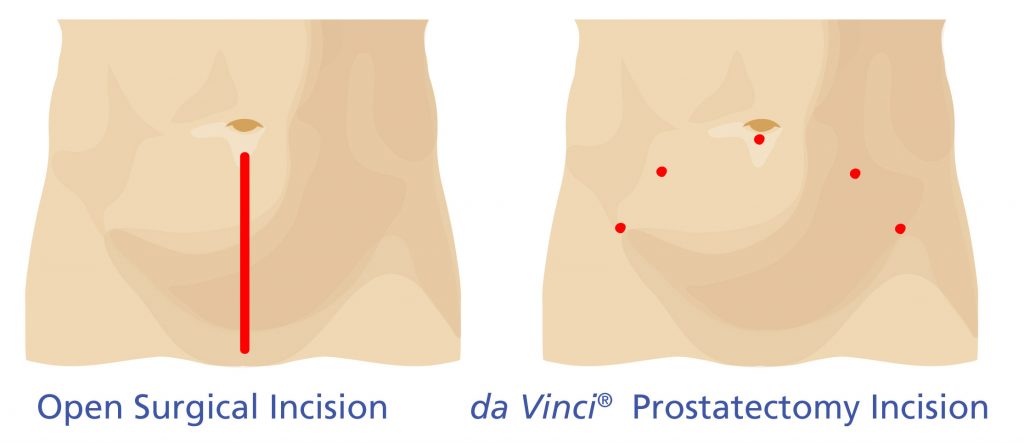 The improved visualization offered by robotic surgery also minimizes the most concerning side effects of prostatectomy. This includes less, if any, urinary incontinence and erectile dysfunction. The Board-Certified urologists at Associated Urological Specialists have performed thousands of da Vinci Robotic Prostatectomy procedures.
Watch this quick overview of the da Vinci Robotic Prostatectomy procedure.
​Radical prostatectomy is the gold standard surgical option for localized prostate cancer. During the procedure for prostate cancer however, the entire prostate is removed along with the seminal vesicles and surrounding lymph nodes to ensure that all of the cancer has been removed.
da Vinci Robotic Prostatectomy at AUS are in Southside Chicago and Northwest Indiana.
Appointments can be made quickly at any of our AUS offices. They are conveniently located in Chicago Ridge, Chicago, Evergreen Park, Homewood, Orland Park and Palos Hills.
Advanced urology appointments for a Robotic Prostatectomy are done best at AUS.
Patients from Morris, Joliet and New Lenox have learned the most advanced urology appointments for a Robotic Prostatectomy are at AUS.
Patients don't have to travel more than a few minutes for an appointment, if they are coming from Alsip, Bedford Park, Blue Island, Bridgeview, Burbank, Calumet Park, Chicago Heights, Country Club Hills, Crestwood, Englewood, Glenwood, Harvey, Hickory Hills, Homer Glen, Matteson, Midlothian, Mokena, Oak Lawn, Oak Forest, Olympia Fields, Orland Hills, Park Forest, Roseland, South side, South Holland and Tinley Park.
Robotic Prostatectomy appointments are done by the best Board-Certified Urologists.
Appointments at AUS can come from Bolingbrook, Brighten Park, Burnham, Burr Ridge, Calumet City, Countryside, Crystal Lawns, Crest Hill, Darien, Dolton, Fairmont, Frankfort, Gage Park, Gillets, Hammond, Hinsdale, Hyde Park, Ingalls Park, Lansing, Lynwood, La Grange, Lemont, Lockport, Munster, Palisades, Richton Park, Riverdale, Romeoville, Sauk Village, South Shore, South Chicago, Westmont, Whiting, Willowbrook and Woodridge.