Dr. Antonio Mancini Appointed New Chief Strategy Officer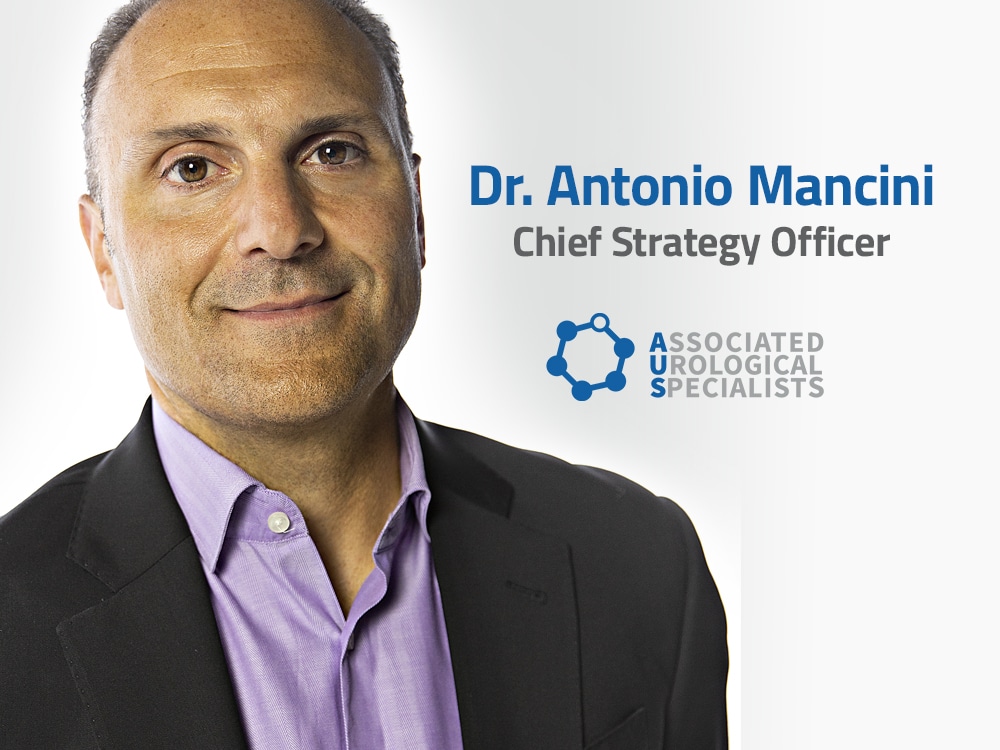 Associated Urological Specialists (AUS) is proud to announce Dr. Antonio Mancini has been appointed Chief Strategy Officer (CSO) effective immediately. As CSO, Dr. Mancini will help formulate, facilitate and communicate the organization's strategic initiatives and future goals.
Dr. Mancini had been the company treasurer for many years and will continue to oversee the company's financial needs, working closely with the executive committee and with Solaris Health.
"Dr. Mancini has been more than a treasurer in his role in AUS for many years," said Dr. Rajesh Patel, President of AUS. "After a number of discussions, the executive committee approved a change in Anthony's title from treasurer to chief strategy officer (CSO) to be more in line with his existing role within AUS. Along with overseeing the company's financial needs, Dr. Mancini will be integral in our growth, including the launch of any new service lines, locations or clinics."
Dr. Patel adds, "We'd like to thank Tony for all his support and work for AUS over the years and congratulate him in his new title and role to help grow AUS."
Dr. Antonio Mancini is Board Certified in Urological Surgery. He earned his Bachelor of Science Degree with a major in biochemistry from Marquette University. He continued his medical education at the Chicago College of Osteopathic Medicine where he also completed his internship and training in urological surgery. Additional sites of training during his residency include Children's Memorial Hospital, Cook County Stroger Hospital and St. Francis Hospital in Evanston.
Dr. Mancini is a member of the American Urological Association, American Osteopathic Association, American College of Osteopathic Surgeons, North Central Section of the American Urological Association and Chicago Urological Society. His areas of interest include minimally invasive surgery, laparoscopy, female urology, urologic oncology, urinary stone disease, erectile dysfunction, and men's health.


Along with Dr. Patel as President, and Dr. Mancini now as Chief Strategy Officer, the AUS executive committee also includes Dr. Aaron Berger, VP and Chief Medical Officer and Ryan Weber, Chief Operating Officer and Dr. Arpeet Shah, Director of the APP program.
---
Associated Urological Specialists (AUS) is a unified group of Urologists and related specialists committed to providing comprehensive urological care to patients and their families around southwest Chicago and northwest Indiana. AUS has placed a tremendous emphasis on bringing together a highly dedicated and skilled set of Board-Certified professionals, equipped with the latest state of the art tools and techniques, to deliver a full range of urological care. Their entire team of physicians and staff are fully dedicated to providing state-of-the-art, compassionate and convenient urological care throughout Chicagoland and beyond.