Dr. Arpeet Shah Named Director APP Program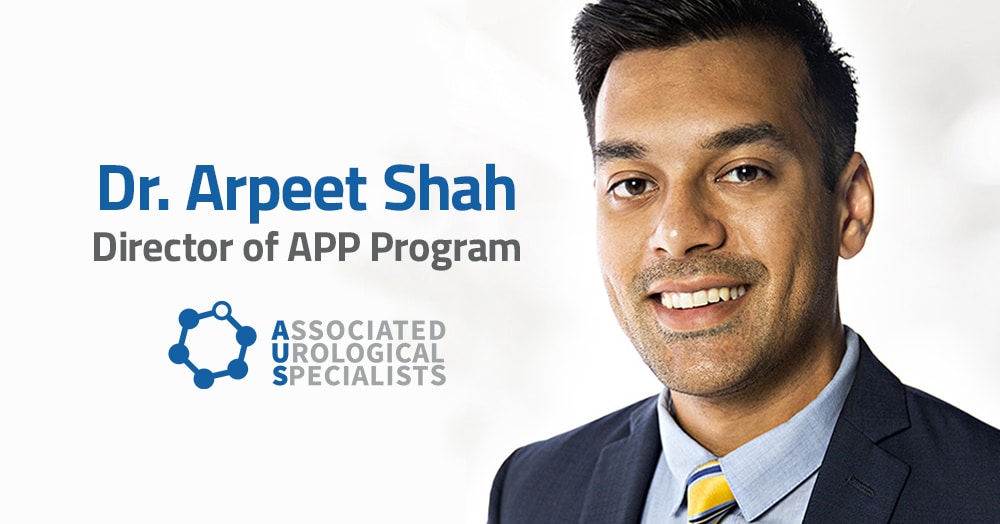 Associated Urological Specialists are proud to announce Dr. Arpeet Shah has been named the Director of their APP Program. Dr. Shah has been an active member with the executive committee and Solaris clinical board over the years. He was instrumental in launching the AUS telehealth program and worked closely with Dr. Aaron Berger, the AUS Chief Medical Officer, on clinical pathways. For over a year, Dr. Shah has taken the lead with onboarding and integrating APP's within AUS. His role as our director will help nurture our APP's practice and career development.
Dr. Rajesh Patel, President of AUS states, "APP's (Advanced Practice Providers) are critical to our organization to continue to provide the highest level of care to our patients and meet the demands of our community and busy practices. AUS, like many groups within Solaris Health, are looking to improve APP, physician and staff satisfaction. It is clear from the many positive reviews that our patients appreciate the ability and flexibility to get added in to see one of our talented APP's when they need help rather than going to the ER."
Dr. Patel adds, "As AUS grows we're looking to create a standard approach to onboard and train new APP's. The board and partners have approved the creation of a director of our APP program and excited to announce that Dr. Arpeet Shah will be taking on this new role." This new title will also fold Dr. Shah into Associated Urological Associates leadership team.
Associated Urological Specialists Leadership Team


Dr. Shah has been closely involved and will continue to provide oversight and guidance in clinical pathway education, EMR documentation and billing/coding. He has been hosting monthly APP meetings to provide continuing education and procedural training.
Dr. Patel highlights, "It is a beautiful thing when a career and a passion come together. Dr. Shah has built a great team to grow the APP program and we'd like to recognize the efforts of Lindsay Skelly, Christina Fabian, Deb Parham, Christine Thompson and Ryan Weber, COO in helping him create and maintain our robust program."
---

Associated Urological Specialists (AUS) is a unified group of Urologists and related specialists committed to providing comprehensive urological care to patients and their families around southwest Chicago and northwest Indiana. AUS has placed a tremendous emphasis on bringing together a highly dedicated and skilled set of Board-Certified professionals, equipped with the latest state of the art tools and techniques, to deliver a full range of urological care. Their entire team of physicians and staff are fully dedicated to providing state-of-the-art, compassionate and convenient urological care throughout Chicagoland and beyond.