Dr. Arpeet Shah Awarded Inaugural LUGPA Trailblazer Award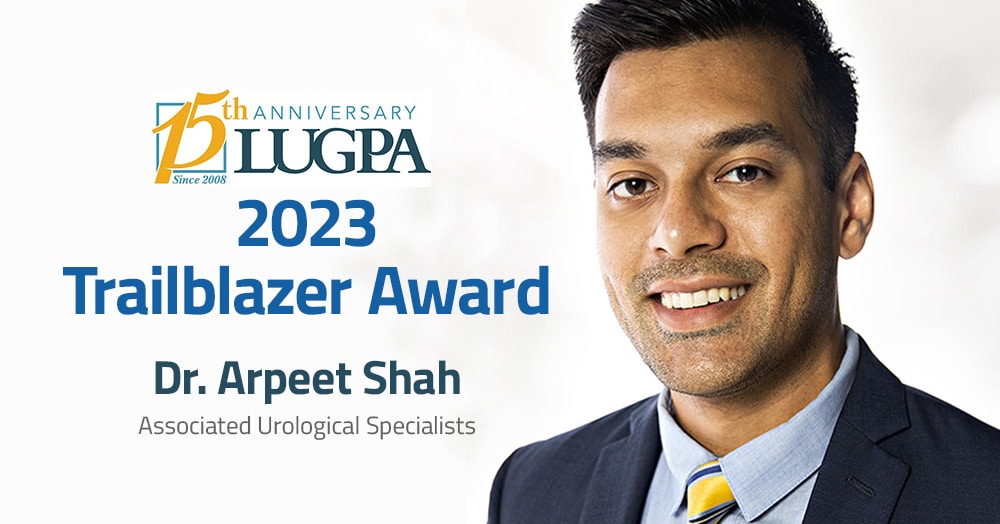 Dr. Arpeet Shah, Director of APP Program at Associated Urological Specialists, was recognized yesterday as the inaugural recipient of the LUGPA Trailblazer Award. The award was announced and presented to Dr. Shah at LUGPA's annual meeting, this year at Disney's Yacht & Beach Club Resorts in Lake Buena Vista, FL.
With a distinguished record of achievements, innovation, and leadership within the field of urology, Dr. Shah's contributions have significantly benefited our practice, the hospitals he works with and the entire urological community. It was a clear choice for many who know him.
Dr. Rajesh Patel, President of Associated Urological Specialists and one of the persons who nominated Dr. Shah notes that his, "exceptional achievements, innovation, leadership, and commitment to help advance the field of urology made him a strong candidate for the LUGPA Trailblazer Award. His contributions have helped reshape our practice, positively impacted patient care and help grow AUS."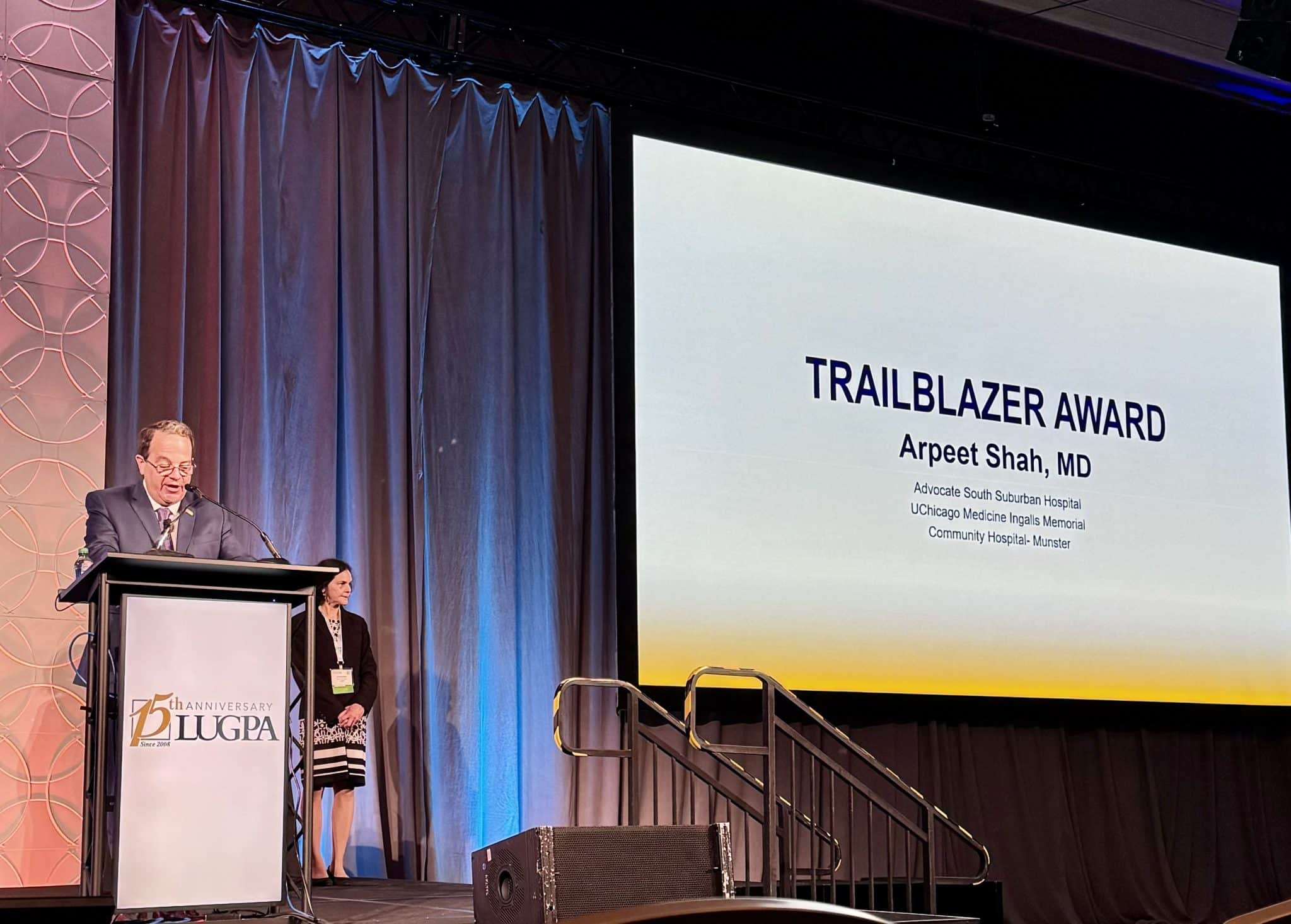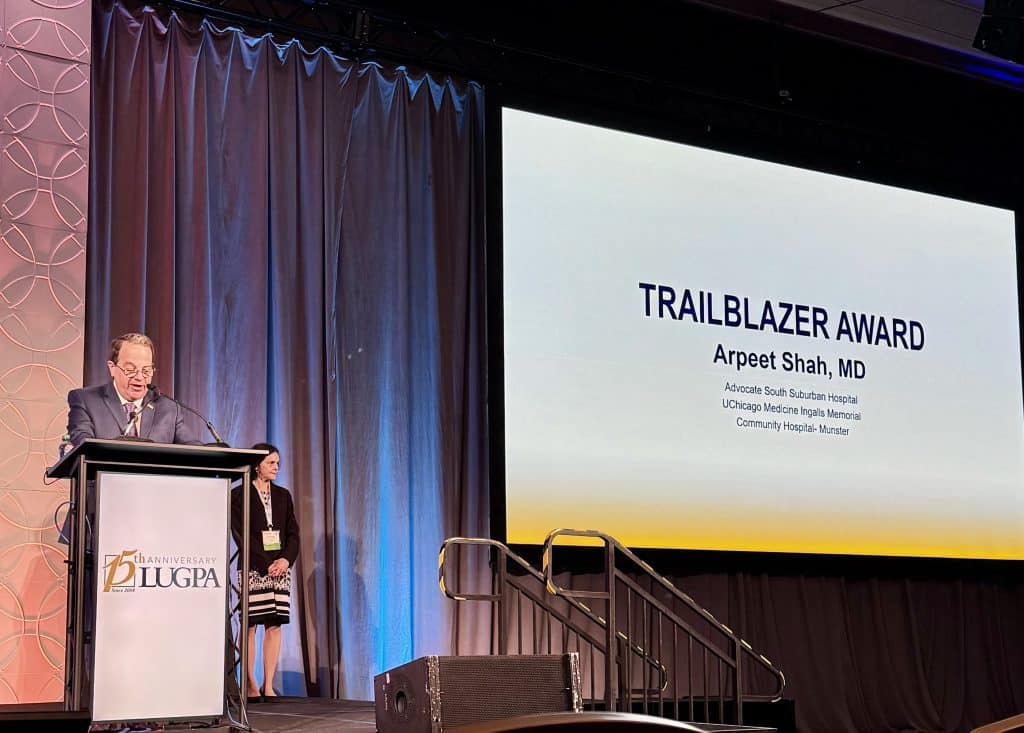 In the nomination process, several of Dr. Shah accomplishments were highlighted, including his extraordinary leadership during the start of the COVID-19 pandemic by swiftly helping to implement a seamless telehealth service program within the first week of an unprecedented disruption.
Dr. Shah also helped develop many procedural programs at Associated Urological Specialists (AUS), such as extracorporeal shockwave lithotripsy (ESWL) and greenlight photoselective vaporization of the prostate (PVP) into an office-based setting.
In the hospital environment, he has revolutionized a local robotic surgery program by introducing an innovative outpatient protocol catering to patients undergoing robotic radical prostatectomies and partial nephrectomies, with a majority being discharged the same day. The local program earned National recognition as a Robotic Center of Excellence as a result and his work earned Dr. Shah the title of the director of the Minimally Invasive Center of Excellence.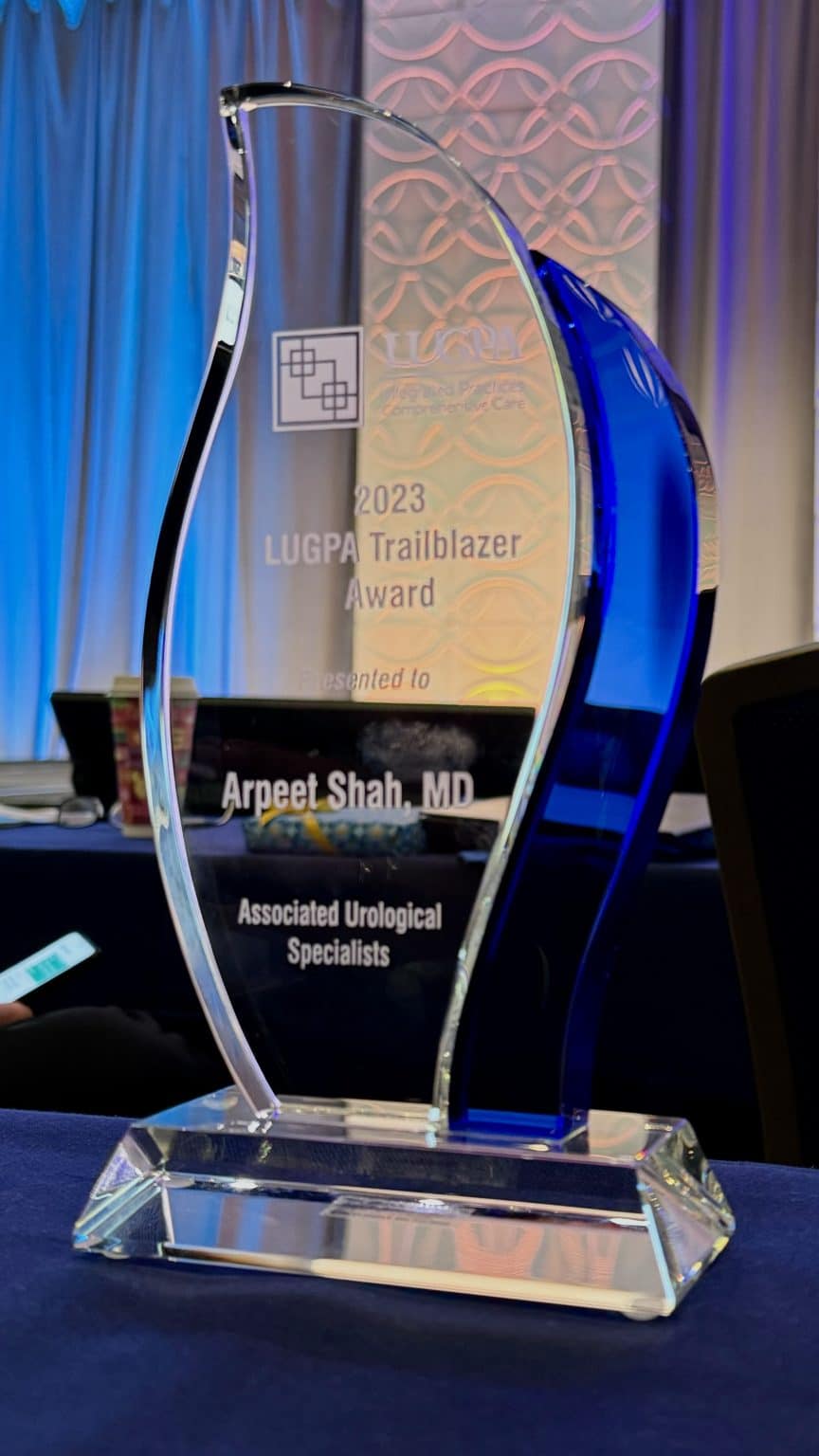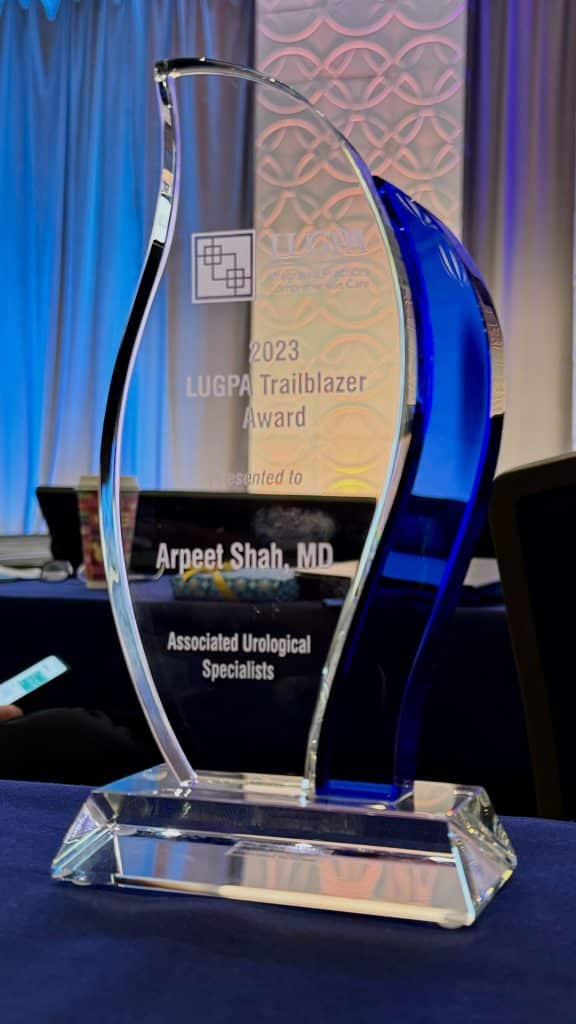 Dr. Shah's efforts to revamp the AUS recruitment program has also borne impressive results with two new physicians signed for 2024 and six new advanced practitioner hires in the last two years. And together with Dr. Aaron Berger, Chief Medical Officer at AUS, they adeptly harnessed analytics and patient navigation to enhance the management of various conditions including BPH, OAB, men's health issues, and prostate cancer, then scaled that with the expansion of the APP program.
Dr. Patel points out even beyond all this, "His most trailblazing feat has been his role as the director of our Advanced Practice Provider (APP) program. Under his guidance, the program has flourished, growing from 2 to 8 providers within just 1.5 years."
Dr. Shah's leadership extends beyond his practice's walls. His participation in leadership positions within both local and national organizations such as Solaris Health Partners, showcases his commitment to shaping the future of urology on a broader scale. He is on the AUS executive leadership team and within Solaris he holds positions on the National Clinical Board and the Future Leaders Committee.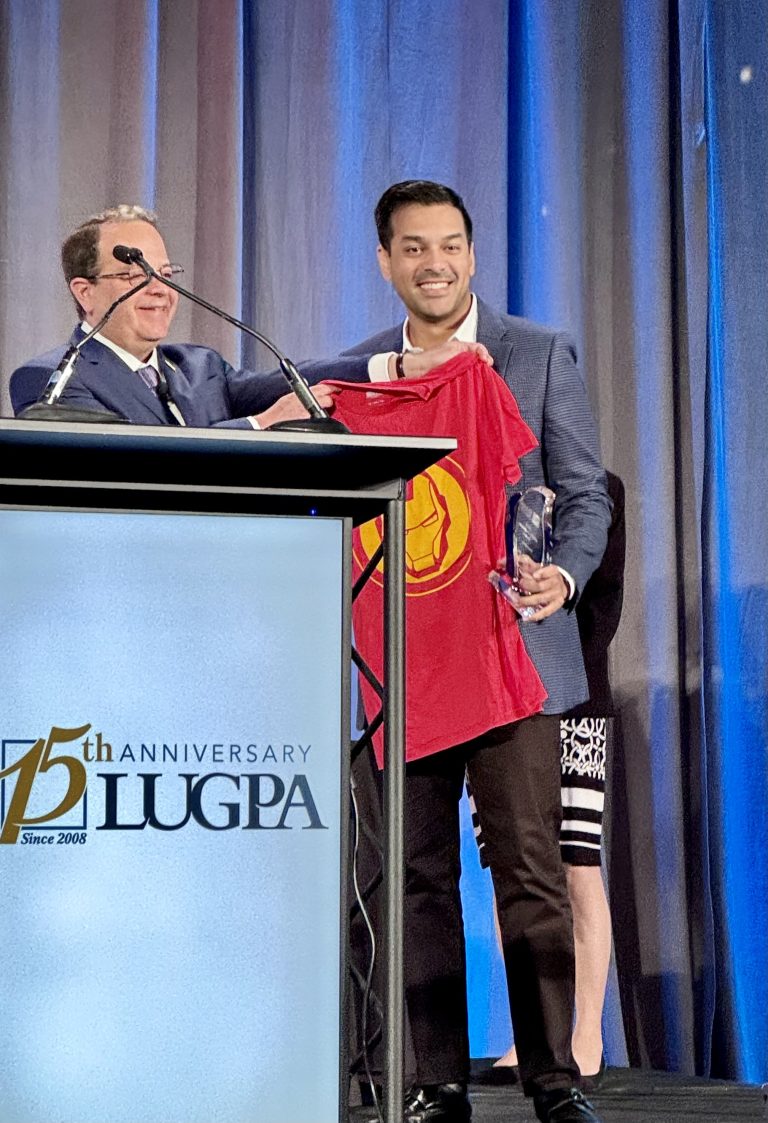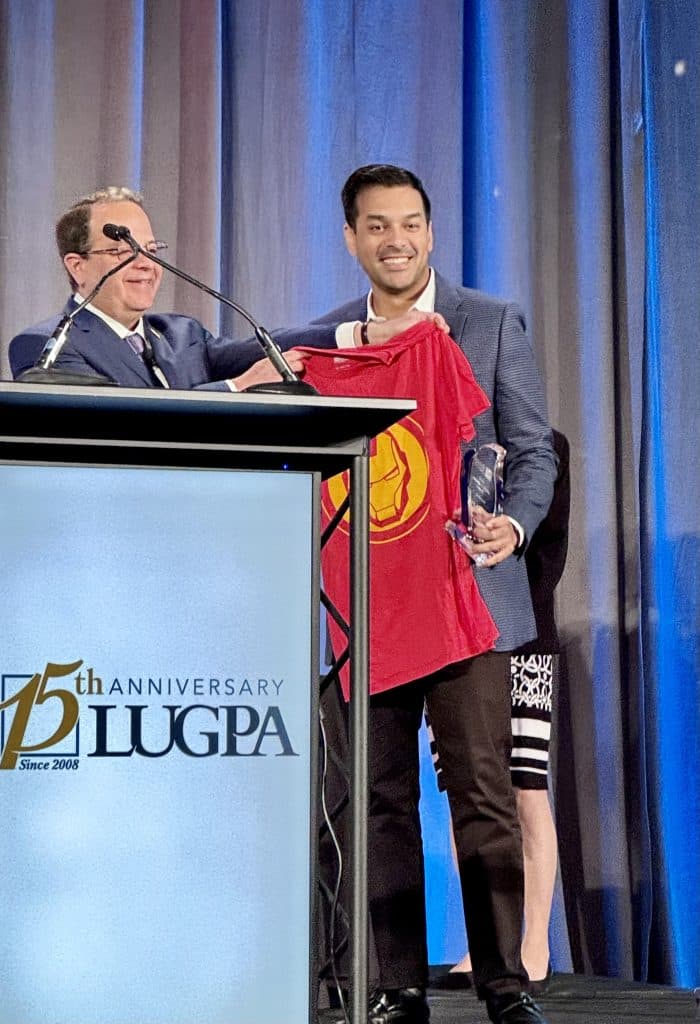 This is the first time LUGPA has ever given out the award. LUGPA is the only nonprofit urology trade association in the US. Since its founding in 2008, LUGPA has earned national recognition in the pursuit of their mission: to preserve and advance the independent practice of urology while demonstrating quality and value to patients, vendors, third-party payors, legislators and regulatory agencies.
Dr. Shah stated in his acceptance speech that "LUGPA has always been at the forefront of championing independent urologists across the country, providing us with the resources and support needed to excel in our field." He thanked them and went on to add, "It's really the premier organization for urologists at all parts of their career." You can watch his full acceptance speech in the video below.
Dr. Shah also recognized and thanked his associates at AUS, specifically Dr. Patel, Dr. Berger, Dr. Antonio Mancini and COO Ryan Weber for 'more than just being colleagues but mentors, confidants and friends.'
Dr. Shah ended his acceptance of the awards by stating he is 'committed to continuing his efforts to advance the field of Urology and to provide the best care to our patients.'
Dr. Shah became the first ever recipient of the inaugural LUGPA Trailblazer Award.
---

Associated Urological Specialists (AUS) is a unified group of Urologists and related specialists committed to providing comprehensive urological care to patients and their families around southwest Chicago and northwest Indiana. AUS has placed a tremendous emphasis on bringing together a highly dedicated and skilled set of Board-Certified professionals, equipped with the latest state of the art tools and techniques, to deliver a full range of urological care.