Dr. Prithvi Murthy to join Associated Urological Specialists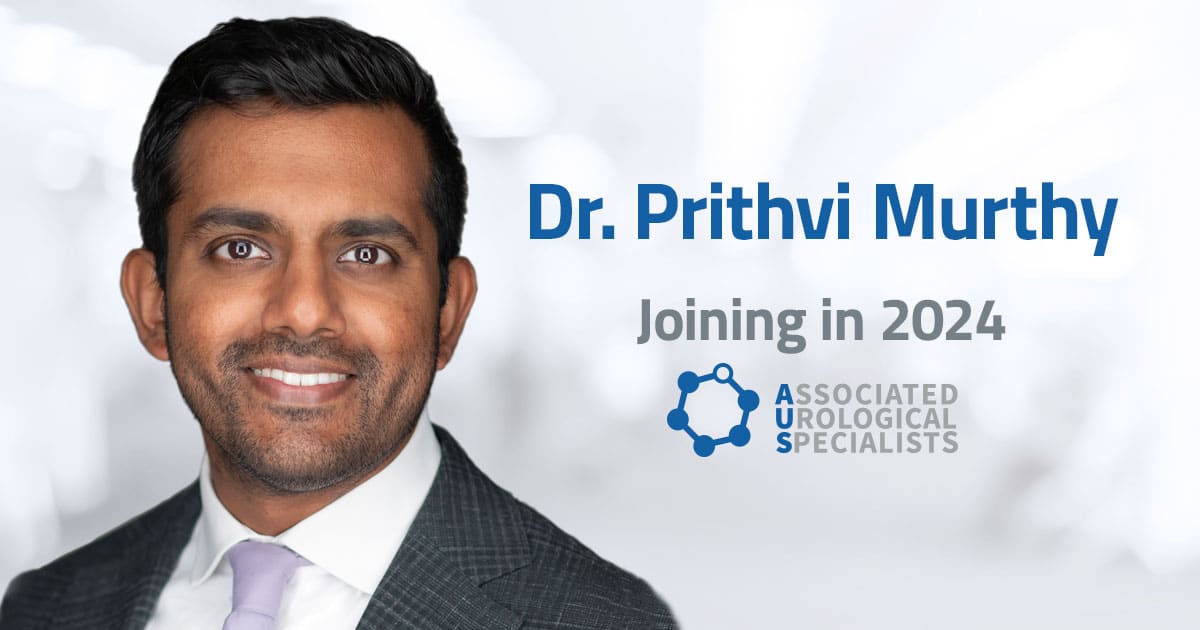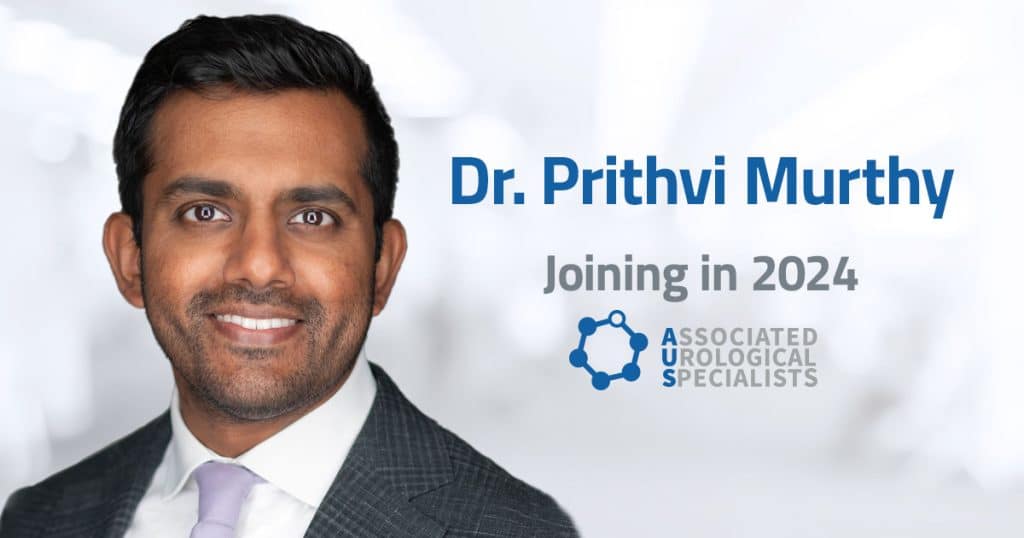 Associated Urological Specialists (AUS) is pleased to announce Dr. Prithvi Murthy will be joining the AUS team of experienced and compassionate urologists. Dr. Murthy, currently at the Moffitt Cancer Center in Tampa, Florida, will be joining AUS in 2024, early in the summer.
Dr. Murthy shared some insight on joining AUS. "The backbone of any organization is its people, and I felt an immediate kinship with the AUS team. I felt that they were the kind of urologists I would want to see or send my friends and family to. They practice contemporary, evidence-based urology and treat their patients and each other with dignity and respect."
A native of southeastern Michigan, Dr. Murthy obtained his undergraduate degree in Biomedical Engineering from the University of Michigan in Ann Arbor. He went on to earn his medical degree at the University of Chicago – Pritzker School of Medicine where he was awarded the Dean's Scholarship for Outstanding Promise in Medicine. Dr. Murthy then completed urologic surgery residency at the Cleveland Clinic Glickman Urological and Kidney Institute, which is consistently ranked as the #1 urology residency training program in the country.
Dr. Murthy then obtained further sub-specialty education in genitourinary malignancies at the Moffitt Cancer Center in Tampa, where he completed a research and clinical fellowship accredited by the Society of Urologic Oncology.
"Prithvi's credentials and experience could have landed him a position at a top university program", said Dr. Rajesh Patel, President of AUS. "We're lucky to have recruited him to AUS to help grow our surgical oncology program and research. He also is interested in having a balanced practice and provide general urology care as well."
Dr. Murthy is a fellowship-trained urologist with expertise in the management of urologic cancers, such as prostate, bladder and kidney cancer. He is particularly adept at utilizing robotic and other minimally-invasive surgical modalities.
"We are all very excited that Dr. Murthy has chosen to join Associated Urological Specialists! He has excellent urologic oncology training and will be a tremendous asset to AUS not only in taking care of patients with complex urologic cancers, but also participating in research and clinical trials," said Dr. Aaron Berger, Chief Medical Officer and Director of Clinical Research at AUS.
Dr. Murthy spoke highly of the team he is joining saying, "I could tell that the group does not want to rest on their laurels. They are always looking for ways to innovate healthcare delivery to provide better care for their community, and I knew that joining AUS would allow me to maintain clinical engagement and continue learning throughout my career."
Dr. Murthy is one of two urologists joining Associated Urological Specialists in the summer of 2024. Dr. Daniel Gerber, currently with the Cleveland Clinic, will be joining him. Dr. Patel points out, "Both are well trained being from one of the top training programs in the country. They will help support our mission to bring high caliber, university level care to our patients and community."
Dr. Arpeet Shah, Director of the APP Program at Associated Urological Specialists, is excited about this top level of talent. "These outstanding new docs could have chosen any practice that they wanted in the country, and they chose AUS! Procurement of this top talent is a testament to the great reputation that AUS has developed both locally in the southern suburbs of Chicago, as well as nationally as part of Solaris Health Partners. The commitment to patient care rivals that of any other urology practice and we are excited to see what the future holds for AUS."
---

Associated Urological Specialists (AUS) is a unified group of Urologists and related specialists committed to providing comprehensive urological care to patients and their families around southwest Chicago and northwest Indiana. AUS has placed a tremendous emphasis on bringing together a highly dedicated and skilled set of Board-Certified professionals, equipped with the latest state of the art tools and techniques, to deliver a full range of urological care. Their entire team of physicians and staff are fully dedicated to providing state-of-the-art, compassionate and convenient urological care throughout Chicagoland and beyond.