Overactive Bladder Treatments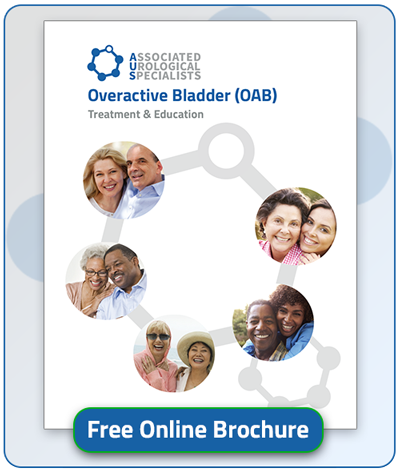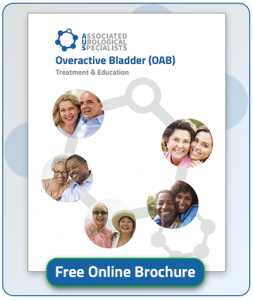 There are multiple treatment options for overactive bladder. An overactive Bladder (OAB) is not something that a patient just needs to live with. Physicians have more resources and options  with overactive bladder treatments available today than ever before to help patients manage their symptoms.
We work with our patients to evaluate their OAB symptoms and walk them through the treatment options available. Every individual's symptoms are different and there is not a "one size fits all" medication or treatment that works for every patient.
You Have Options
---
Non-Surgical Treatments
---
Behavioral Changes
Decreasing caffeine (i.e. coffee, soda, tea) and alcohol intake, avoiding artificial sweeteners (i.e. Splenda, Equal, Sweet n' Low), and stopping fluid intake 2-3 hours before you go to bed may improve your lower urinary tract symptoms.
Timed Voiding
Urinating at defined intervals to retrain your bladder.
Avoid Constipation
Pelvic Floor Physical Therapy/Biofeedback
This will help either strengthen or relax the muscles of your pelvic floor, which may be contributing to your urinary symptoms.
Urgent PC® Nerve Stimulation
Urgent PC is a non-drug, non-surgical option for overactive bladder and associated symptoms of urinary urgency, urinary frequency and urge incontinence. The Urgent PC system delivers a specific type of neuromodulation called percutaneous tibial nerve stimulation (PTNS).
---
Oral Medications
---
Anticholinergicsor or Beta-agonists
These medications work by blocking certain nerve impulses to the bladder, which relaxes the bladder muscle which can increase the bladder capacity.These medications may also improve the amount of times you wake up at night to urinate.
Botox
BOTOX® is a prescription medicine that is injected into the bladder muscle to improve relaxation and decrease urgency, frequency, and waking up at night to urinate. Botox is a quick and easy office procedure and symptoms are often improved for 6 months at a time.
---
Surgical Treatments
---
Axonics Therapy is a clinically proven solution for treating symptoms of overactive bladder (including urinary urgency incontinence), bowel (fecal) incontinence and urinary retention. Axonics Therapy provides gentle stimulation to the nerves that control the bladder and bowel, which can restore normal control and result in symptom improvement. Find out more.
InterStim® Therapy
InterStim® Therapy is a proven neuromodulation therapy that targets the communication problem between the brain and nerves that control the bladder. InterStim® Therapy expands options for patients with urge incontinence, urgency-frequency, or nonobstructive urinary retention. It works by modulating the nerves to the bladder and improving urinary urgency, frequency, and waking up at night to urinate.
Tibial Nerve Stimulation
Similarly to Interstim, this works to modulate the nerves to the bladder and decrease urgency, frequency, and waking up at night to urinate.
Make an OAB Appointment Today
---
At Associated Urological Specialists, our experienced OAB urologists and practitioners assess our patients and discuss treatment options with them. Their goal is to find the most effective plan that works best for each individual.
Our goal is to not have you always looking for where the nearest restroom is, wondering whether you can drive somewhere without having to stop, making it through an entire movie, or just being out with family or friends without having to suddenly leave.
Make an appointment today and start enjoying life again.
Download our free Bladder Diary by clicking the image above.
Overactive Bladder Appointments at AUS are in Chicago, Southside Chicago and Northwest Indiana.
Overactive bladder (OAB) treatments are done best with AUS.
Patients have learned the most advanced urology procedures, like Overactive Bladder treatments, are done at AUS. See us if you live in Alsip, Bedford Park, Blue Island, Bridgeview, Burbank, Calumet Park, Chicago Heights, Country Club Hills, Crestwood, Englewood, Glenwood, Harvey, Hickory Hills, Homer Glen, Matteson, Midlothian, Mokena, Oak Lawn, Oak Forest, Olympia Fields, Orland Hills, Park Forest, Roseland, South side, South Holland and Tinley Park. Patients treated successfully at AUS come from Bolingbrook, Brighten Park, Burnham, Burr Ridge, Calumet City, Countryside, Crystal Lawns, Crest Hill, Darien, Dolton, Fairmont, Frankfort, Gage Park, Gillets, Hammond, Hinsdale, Hyde Park, Ingalls Park, Lansing, Lynwood, La Grange, Lemont, Lockport, Munster, Palisades, Richton Park, Riverdale, Romeoville, Sauk Village, South Shore, South Chicago, Westmont, Whiting, Willowbrook and Woodridge.