The Most Advanced Urology Vasectomies are at AUS.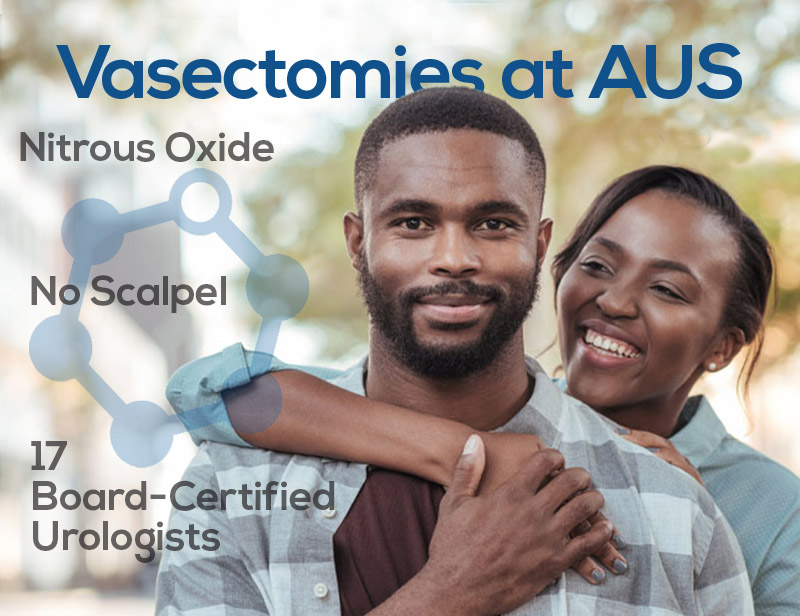 Many men get stressed when you even talk about a vasectomy. That's why the most advanced urology vasectomy methods in all of Chicagoland are utilized at Associated Urological Specialists (AUS). They have become leaders in the effort to keep the stress and worry with a vasectomy to an absolute minimum.
Many times, the stress of a vasectomy isn't even associated with the procedure itself. Many men worry about side effects, including sexual performance, after a vasectomy. The advanced urology methods AUS incorporate have decades of success that shows there are be NO sexual performance side effects from, or after, one of their vasectomies.
Some of the advanced urology techniques and methods used at AUS include:
No scalpel techniques, as well as many other methods that might be better, preferred, or safer, for an individual patient.
Nitrous Oxide (N2O) that can be used by the patient during the entire procedure, including no scalpel methods.
Decades of experience and thousands of successful procedures.
The safest protocol and patient paths (including COVID-19 pre-cautions) before, during and after a vasectomy.
Why AUS over anyone else?
All 17 of our urologists are Board-Certified. That makes a difference.
Many doctor offices, clinics (even vasectomy clinics) in and around Chicago offer no scalpel vasectomies. The procedure itself can be done by a licensed physician and surgeon. However, many general practitioners or doctors who are doing them don't specialize in male genitalia or fertility. And that is important.
The Board-Certified Urologists at AUS are often referred the difficult vasectomy procedures for patients that the other Vasectomy Clinics aren't comfortable with. And often, when patients have issues or problems with procedures, they get referred to our board certified urologists at AUS.
Patient consultations for a vasectomy can be done discretely online through a Telehealth appointment or in person at any of our locations:
Chicago Ridge
Evergreen Park
Homewood
Orland Park
Palos Hills
The most advanced urology vasectomies, methods, urologists, and procedures are done at Associated Urological Specialists.