Best Doctors For A Vasectomy
The 17 Top Board-Certified Urologists for Vasectomies.
These AUS Board-Certified Urologists offer the latest minimally invasive options, such as a no-scalpel or no-snip vasectomies. They all have years of experience, successfully performing effective vasectomy procedures under the safest protocols. They are able to offer you options like nitrous oxide and other options to reduce your stress and every vasectomy is done with the little to no pain what so ever. They can even schedule patients to have a consultation and procedure done in the same day. And offer days and hours to fit a patients schedule, not theirs.
Why choose an AUS Urologist for a Vasectomy?
If you have a vasectomy with AUS, it will be done by a Board-Certified Urologist.
This is very important for two reasons. Let us explain.
1. Urologists specialize in both male genital anatomy and fertility.
Many doctor offices, clinics (even vasectomy clinics) in and around Chicago offer no snip or no scalpel vasectomies. The procedure itself can be done by a licensed physician and surgeon. However, many general practitioners or doctors who are doing them don't specialize in male genitalia or fertility. And that is important.
Urologists specialize in both male genital anatomy and fertility. They are trained to evaluate and treat all patients with urological disorders. Unfortunately, many doctors who do vasectomies don't have that training. And when it comes to something as specific as a vasectomy, specialization matters. You wouldn't want a roofer to fill a cavity in your teeth, and you wouldn't call a mechanic to perform heart surgery. So why would you have a physician that doesn't specialize in male genitalia and fertility operate on you?
2. Board-Certification Makes a Big Difference.
If a urologist is medical specialty Board-Certified, he or she requires the highest standards of training and performance in that specialty. To become Board-Certified, the urologist must pass a series of rigid examinations specific to their area of practice. Certification includes all domains of urology, including but not limited to pediatric urology, endourology, female urology, andrology, oncology, urolithiasis, and general urology.
The Board-Certified Urologists at AUS are often referred the difficult vasectomy procedures for patients that the Vasectomy Clinics aren't comfortable with. And often, when patients have issues or problems with procedures, they get referred to a board certified urologist.
At Associated Urological Specialists (AUS), all 17 of are Urologists are Board-Certified.
AUS Board-Certified Urologists offer the latest minimally invasive options, such as a no-scalpel vasectomies. If you need something to relax you, they are able to offer you options like nitrous oxide. They can even schedule it so you can have your consultation and procedure the same day.
For more information, visit The American Board of Urology.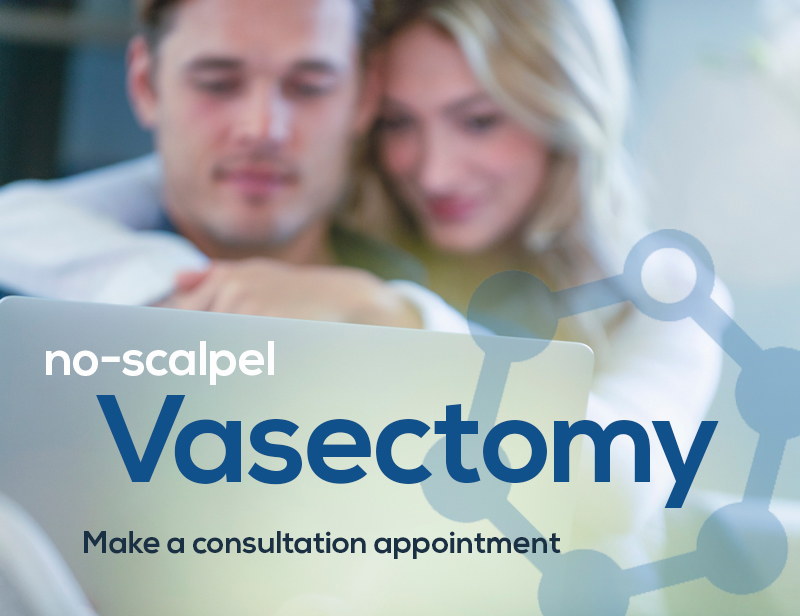 Schedule a vasectomy consultation with one of our Board-Certified Urologists
The first step is to get a consultation. We will take the time to answer all your questions and take you through what you can expect before and after the procedure. It's a great time to ask any questions you may have. Don't be afraid to ask about anything you're wondering about – we've heard everything.
The consultation can be done discretely, either in person at any one of our offices or as a Telehealth appointment from the privacy and convenience of your home.
Although legally you may not be required to have the consent of your wife or partner, a vasectomy (or any contraceptive choice) should be best decided as a couple. This is one decision that you may not want to make on your own. We encourage your partner to be a part and participate in the consultation visit with you, so that you can both ask questions.
We know that most people are extremely busy with work and family life. And hey, there's not many people who like making a bunch of trips to the doctor. Associated Urological Specialists (AUS) offers the option for having a consultation and a no scalpel vasectomy done in the same day. The consultation part can be done in person or by a Telehealth appointment, but obviously the procedure needs to be done at our office.
AUS Board-Certified Urologists
The Top Vasectomy Clinics in Southside Chicago and Northwest Indiana.
No-scalpel vasectomies are done safely, with all COVID-19 precautions, at our AUS offices. They are conveniently located in Chicago Ridge, Evergreen Park (consultation appointments only), Homewood, Orland Park and Palos Hills.
The most advanced urologists performing vasectomies, are here at AUS.
Not a long drive to find a board-certified urologist for your vasectomy.
Patients don't have to travel more than a few minutes for a no-scalpel vasectomy if they are coming from Alsip, Bedford Park, Blue Island, Bridgeview, Burbank, Calumet Park, Chicago Heights, Country Club Hills, Crestwood, Englewood, Glenwood, Harvey, Hickory Hills, Homer Glen, Matteson, Midlothian, Mokena, Oak Lawn, Oak Forest, Olympia Fields, Orland Hills, Park Forest, Roseland, South side, South Holland and Tinley Park.
The most advanced urology vasectomies done by Board-Certified Urologists.
Patients for a no-snip vasectomy at AUS come from Bolingbrook, Brighten Park, Burnham, Burr Ridge, Calumet City, Countryside, Crystal Lawns, Crest Hill, Darien, Dolton, Fairmont, Frankfort, Gage Park, Gillets, Hammond, Hinsdale, Hyde Park, Ingalls Park, Lansing, Lynwood, La Grange, Lemont, Lockport, Munster, Palisades, Richton Park, Riverdale, Romeoville, Sauk Village, South Shore, South Chicago, Westmont, Whiting, Willowbrook and Woodridge.