What is a No Scalpel Vasectomy?
There are many methods used to perform a vasectomy procedure. The Board-Certified Urologists at AUS recommend, and almost always use, a no scalpel vasectomy method.
A no scalpel vasectomy uses a method that allows doctors to complete the procedure using a single, tiny puncture. In this manner, no use of a scalpel is needed. The puncture is so minimal, most patients don't ever feel it.
After the no scalpel vasectomy procedure is complete, ejaculations will proceed as normal but the man's semen will not contain any sperm. Ejaculation during sexual intercourse will continue to be the same, he simply will no longer be able to impregnate his partner. Find out more here.
Introduced to the United States in 1988, The no scalpel vasectomy is thought by many to be one of the most effective forms of birth control. It was first done in the US in 1988. The Board-Certified Urologists AUS has been performing no scalpel vasectomies for decades.
Benefits of a No Scalpel Vasectomy
No scalpel vasectomy procedures do NOT affect sexual function.
No scalpel vasectomies are performed quickly (15-30 minutes).
They are much less invasive than a tubal ligation (i.e., the procedure used to prevent a woman's eggs from reaching the uterus).
No scalpel vasectomies are easily reversed.
Having a no-scalpel procedure may ease a lot of the stress or anxiety of having a vasectomy. However, AUS also offers their patients Nitrous Oxide during the procedure as well. Find out more here.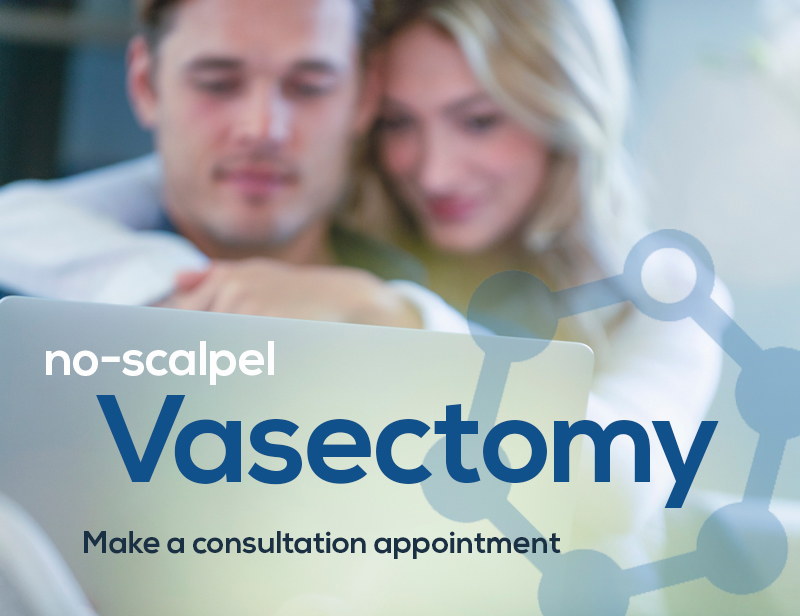 Schedule a vasectomy consultation
The first step for getting a no scalpel vasectomy is to get a consultation with one of our board-certified urologists.
The consultation is a great way to have all of your questions answered. The urologist will take you through the entire procedure - what you can expect before, during and after. Don't be afraid to ask about anything you're wondering about – we've heard everything.
The consultation can be done discretely, either in person at any one of our offices or as a Telehealth appointment from the privacy and convenience of your home. And we highly encourage your partner or spouse to participate in the consultation.
The Top Vasectomy Clinics in Southside Chicago and Northwest Indiana.
No-scalpel vasectomies are done safely, with all COVID-19 precautions, at our AUS offices. They are conveniently located in Chicago Ridge, Evergreen Park (consultation appointments only), Homewood, Orland Park and Palos Hills.
The most advanced urology procedures, like a vasectomy, are done at AUS.
No long drive for no scalpel vasectomies.
Patients don't have to travel more than a few minutes for a no-scalpel vasectomy if they are coming from Alsip, Bedford Park, Blue Island, Bridgeview, Burbank, Calumet Park, Chicago Heights, Country Club Hills, Crestwood, Englewood, Glenwood, Harvey, Hickory Hills, Homer Glen, Matteson, Midlothian, Mokena, Oak Lawn, Oak Forest, Olympia Fields, Orland Hills, Park Forest, Roseland, South side, South Holland and Tinley Park.
Safe, no-scalpel vasectomies done by Board-Certified Urologists.
Patients for a no-scalpel vasectomy at AUS come from Bolingbrook, Brighten Park, Burnham, Burr Ridge, Calumet City, Countryside, Crystal Lawns, Crest Hill, Darien, Dolton, Fairmont, Frankfort, Gage Park, Gillets, Hammond, Hinsdale, Hyde Park, Ingalls Park, Lansing, Lynwood, La Grange, Lemont, Lockport, Munster, Palisades, Richton Park, Riverdale, Romeoville, Sauk Village, South Shore, South Chicago, Westmont, Whiting, Willowbrook and Woodridge.