We realize having any type of vasectomy, (no-scalpel or otherwise), can be stressful. So at AUS, our Board-Certified Urologists are able to offer patients PRO-NOX™  Nitrous Oxide for sedation during whatever method of vasectomy they choose.
What is Nitrous Oxide?
Nitrous Oxide is also called N2O, but the name most people have heard for it is "laughing gas". Which makes sense. Nitrous oxide can cause a sense of euphoria and relaxation. It was first used in 1772 to relieve a tooth ache, and to this day helps millions feel more comfortable and experience less pain during a medical procedure.
A nitrous oxide vasectomy is simply any vasectomy procedure that utilizes N2O to help sedate the patient. At AUS, we use PRO-NOX™, which is a safe & effective 50/50 mix of Nitrous Oxide and Oxygen.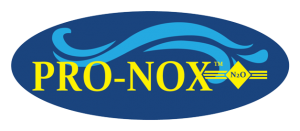 How is PRO-NOX™ used for a Vasectomy?
Patients love PRO-NOX™ because they control when to use the system. It comes on a fully portable cart, allowing them to move between treatment rooms, while still getting the relief they need.
The sedation effects of it happen within minutes. Following the vasectomy procedure, the effects of this gas are then completely reversed, also within minutes, simply by the patient breathing normally.
The benefits of a Nitrous Oxide Vasectomy.
Most vasectomy procedures don't take that long. Even so, many men find this safe sedation technique to be an added means of relaxing or relieving the stress and tension they worry they might have during the actual procedure.
Another benefit is nitrous oxide gas doesn't lead to any irritation or allergies. Therefore, it is considered to be one of the safest forms of sedation available. Vasectomy patients who have used it report very few, if any, side effects.
Another big benefit of using nitrous oxide is that, unlike other forms of sedation, when patients 'awake' from it, they are almost instantly back to normal. No feelings of being foggy or forgetful. In fact, the short acting nature of this anesthetic can allow the patient to be able to drive himself home right after the procedure.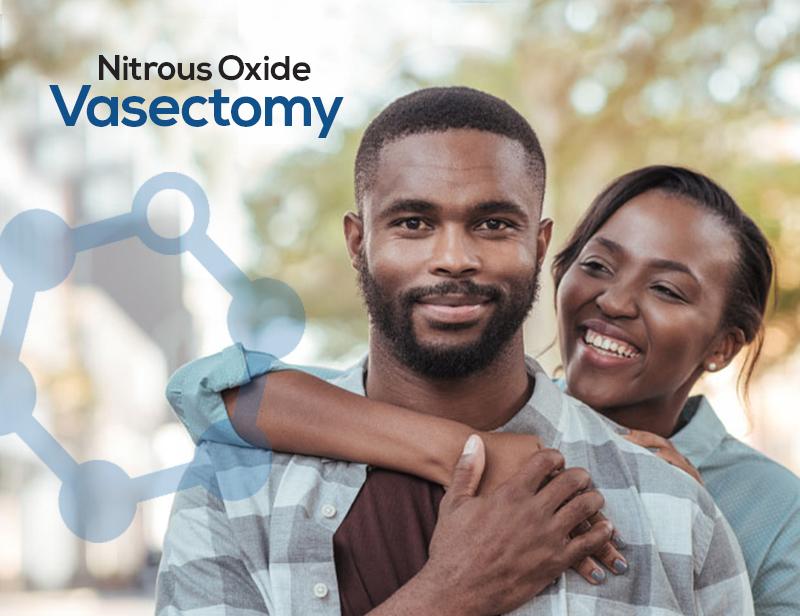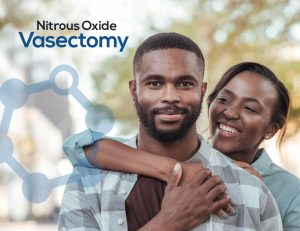 Proven safe & effective — used globally for decades.

Patient administered — empowers the patient to respond to their pain & anxiety when they need it.

Quick Onset — takes effect in seconds — immediate relief!

Short duration of effect — clears from body within minutes.

Can be used for the duration of any vasectomy where the patient has pain and anxiety.

Speeds patient recovery allowing them to drive to and from their procedure!

Studies have shown that it is non-addictive for the patient for procedures, while delaying or decreasing the need for other pain medicine.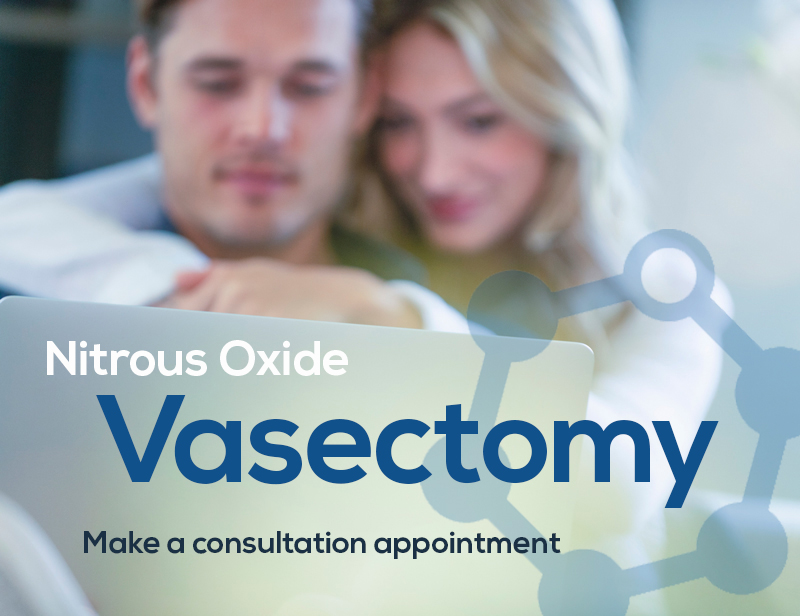 Schedule a nitrous oxide vasectomy consultation
The first step is to get a consultation with one of our board-certified urologists. They will take the time to answer all your questions about nitrous oxide and take you through what you can expect before and after the procedure. It's a great time to ask any questions you may have. Don't be afraid to ask about anything you're wondering about – we've heard it all.
The consultation can be done discretely, either in person at any one of our offices or as a Telehealth appointment from the privacy and convenience of your home.
Although legally you may not be required to have the consent of your wife or partner, a vasectomy (or any contraceptive choice) should be best decided as a couple. This is one decision that you may not want to make on your own. We encourage your partner to be a part and participate in the consultation visit with you, so that you can both ask questions.
We know that most people are extremely busy with work and family life. And hey, there's not many people who like making a bunch of trips to the doctor. Associated Urological Specialists (AUS) offers the option for having a consultation and a no scalpel vasectomy done in the same day. The consultation part can be done in person or by a Telehealth appointment, but obviously the procedure needs to be done at our office.
The Top Vasectomy Clinics in Southside Chicago and Northwest Indiana.
No-scalpel vasectomies are done safely, with all COVID-19 precautions, at our AUS offices. They are conveniently located in Chicago Ridge, Evergreen Park (consultation appointments only), Homewood, Orland Park and Palos Hills.
The most advanced urology procedures, like a nitrous oxide vasectomy, are done at AUS.
No long drive for nitrous oxide vasectomies.
Patients don't have to travel more than a few minutes for a no-scalpel vasectomy if they are coming from Alsip, Bedford Park, Blue Island, Bridgeview, Burbank, Calumet Park, Chicago Heights, Country Club Hills, Crestwood, Englewood, Glenwood, Harvey, Hickory Hills, Homer Glen, Matteson, Midlothian, Mokena, Oak Lawn, Oak Forest, Olympia Fields, Orland Hills, Park Forest, Roseland, South side, South Holland and Tinley Park.
Nitrous oxide vasectomies done by Board-Certified Urologists.
Patients for a no-scalpel vasectomy at AUS come from Bolingbrook, Brighten Park, Burnham, Burr Ridge, Calumet City, Countryside, Crystal Lawns, Crest Hill, Darien, Dolton, Fairmont, Frankfort, Gage Park, Gillets, Hammond, Hinsdale, Hyde Park, Ingalls Park, Lansing, Lynwood, La Grange, Lemont, Lockport, Munster, Palisades, Richton Park, Riverdale, Romeoville, Sauk Village, South Shore, South Chicago, Westmont, Whiting, Willowbrook and Woodridge.