Nicole Miroballi Joins Associated Urological Specialists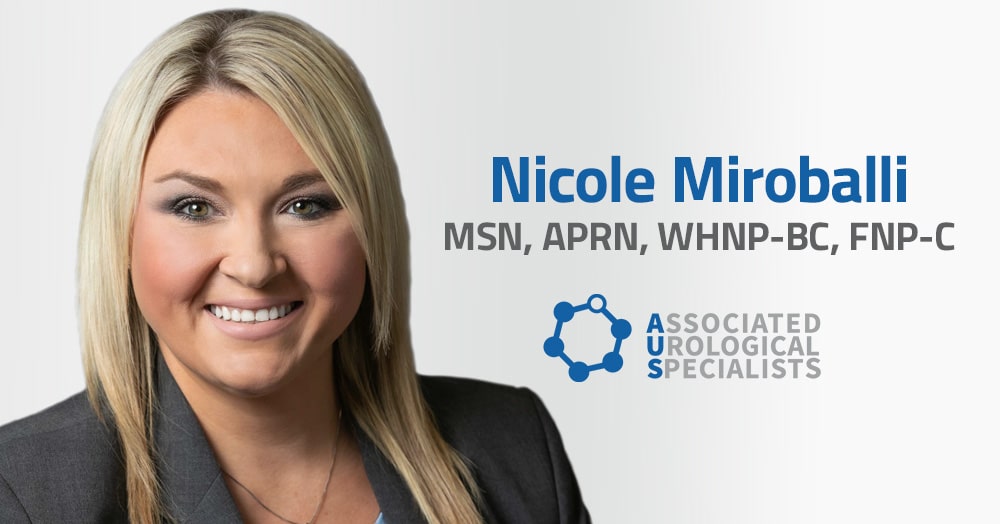 Associated Urological Specialists (AUS) is proud to announce the addition of another Board-Certified Advanced Nurse Practitioner. Nicole Miroballi, MSN, APRN, WHNP-BC, FNP-C is currently seeing patients in both Homewood and Orland Park (Harlem Ave), Illinois.
As a Board-Certified Advanced Nurse Practitioner, Nicole is certified and licensed to diagnose, manage, and treat a variety of urological conditions in both men and women and has a strong passion for Men's Health.
"I cannot emphasize enough how much I genuinely care about my patients," Nicole says. "I treat them as if they were my own family and make sure their questions and concerns are heard and addressed. I believe the key to a great Patient-Provider relationship is to help educate and support them in making the best decisions for their well being and quality of life."
Nicole Miroballi will work in collaboration with multiple urologists. She will split her time at the AUS Homewood clinic at 17901 Governors Highway, Suite 102 in Homewood, Illinois with Dr. Grant Chavin, Dr. Raj Patel, Dr. Arpeet Shah and NP's Nicole Hollander and Danielle McLaren as well as the AUS Orland Park, Harlem clinic at 15234 South Harlem Avenue, Orland Park, IL 60462 with Dr. Antonio Mancini, Dr. George Sreckovic, Dr. Charles Turk and NP Isabel Betancourt.

Nicole graduated from the University of Cincinnati with her Women's Health Nurse Practitioner in 2016 and later went back to further her education and obtained a Family Nurse Practitioner Certificate in 2020. Nicole now has well over a year in experience directly in Urology but has over ten years experience in Women's Health. She moves to Associated Urological Specialists from Advanced Urology Associates, another affiliate in Solaris Health Partners.
Nicole Miroballi has Board-Certifications from both the American Association of Nurse Practitioners (AANP) and the American Nurses Credentialing Center (ANCC).
Nicole Miroballi grew up in the Orland Park, IL area and outside of work, she enjoys spending time with family and friends, playing golf, attending sporting events and concerts.
Nicole joins five other Board-Certified Family Nurse Practitioners at Associated Urological Specialists. Nicole Hollander, MSN, APRN, FNP–BC, Isabel Betancourt, RN, BSN, MSN, FNP-BC, Danielle McLaren, MSN, APRN, FNP-C, Camlinh Roska, MSN, APN-BC, NP-C, and Ewa Blachowicz, Doctor of Nursing Practice, MSN, NP-BC have provided their multiple talents and experience with AUS patients and providers for many years. Ewa Blachowicz recently received her Doctor of Nursing Practice.
---
Associated Urological Specialists (AUS) is a unified group of Urologists and related specialists committed to providing comprehensive urological care to patients and their families around southwest Chicago and northwest Indiana. AUS has placed a tremendous emphasis on bringing together a highly dedicated and skilled set of Board-Certified professionals, equipped with the latest state of the art tools and techniques, to deliver a full range of urological care. Their entire team of physicians and staff are fully dedicated to providing state-of-the-art, compassionate and convenient urological care throughout Chicagoland and beyond.