Urinary Tract Infection (UTI) Symptoms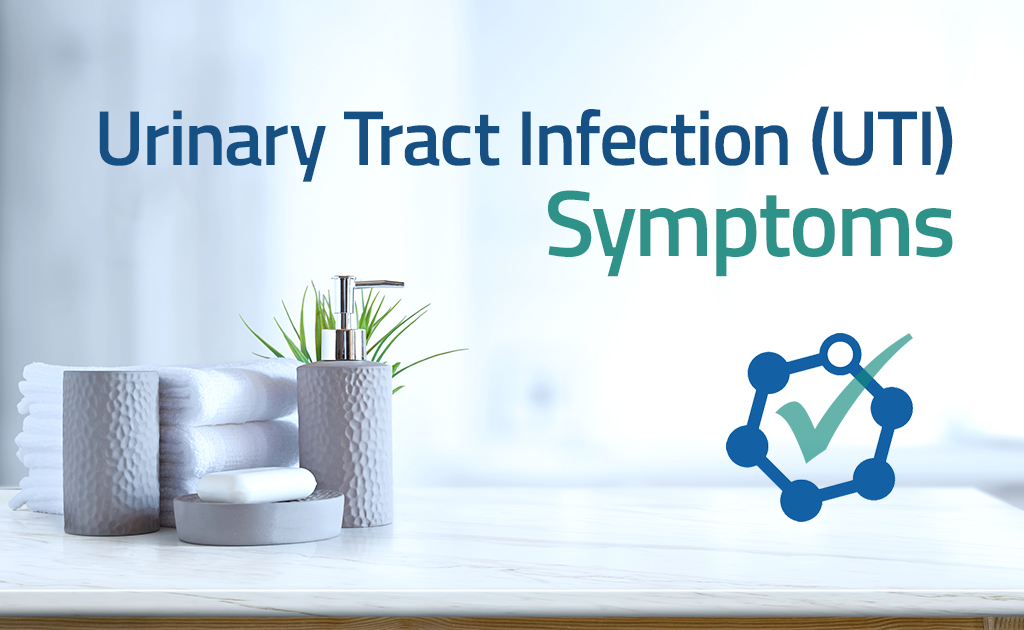 UTI Symptoms
Typically, a urinary tract infection (UTI) will cause pain or burning with urination (dysuria) and can also cause urinary frequency and urgency. UTIs can also lead to blood in the urine (hematuria) and in some cases, UTI's can cause the bladder to not function properly and patients may not be able to urinate at all (urinary retention). More severe infections can cause lower abdominal or suprapubic pain and tenderness and if the infection ascends to the kidneys, a condition known as pyelonephritis, severe back/flank pain and fevers and chills can occur.
Common uriniary tract infection (UTI) symptoms
Urinary tract infection symptoms don't always appear as easy to read signs and symptoms, but when they do they may include:
A strong, persistent urge to urinate
A burning sensation when urinating
Passing frequent, small amounts of urine
Urine that appears cloudy
Urine that appears red, bright pink or cola-colored — a sign of blood in the urine
Strong-smelling urine
Pelvic pain, in women — especially in the center of the pelvis and around the area of the pubic bone
UTIs may be overlooked or mistaken for other conditions in older adults.
---
Different types of UTIs have different signs and symptoms
Each type of UTI may result in more-specific signs and symptoms, depending on which part of your urinary tract is infected.
Kidney UTI (acute pyelonephritis)
Upper back and side (flank) pain
High fever
Shaking and chills
Nausea
Vomiting
Bladder UTI (cystitis)
Pelvic pressure
Lower abdomen discomfort
Frequent, painful urination
Blood in urine
Urethra UTI (urethritis)
Burning with urination
Discharge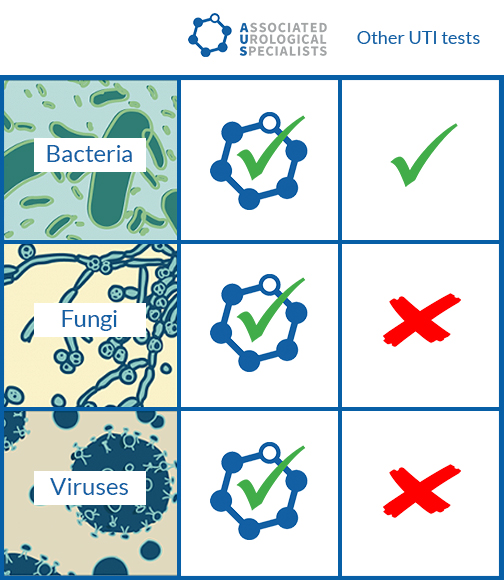 Don't wait to get tested for a UTI.
UTIs are extremely uncomfortable and the last thing you want is to be waiting around for results to come back. Fortunately, AUS has its own lab, so we are able to provide results three to four times faster than most. Cultures from other tests can take 42-72 hours. At AUS, results can be turned around in less than a day – some patients even get their results within 12 hours.
With 17 Board-Certified Urologists at 7 different locations, we are even able schedule a quicker appointment time.
Most importantly, our Guidance® UTI Test provides more data than most, so we are able to diagnose and treat each UTI more effectively.
Call us today or request a UTI appointment below.
UTI tests must be done in person at one of our clinics.
UTI symptoms. AUS is in Southside Chicago and Northwest Indiana.
Symptoms of UTIs are quickly tested at any of our AUS offices. They are conveniently located in Chicago Ridge, Evergreen Park, Homewood, Orland Park and Palos Hills.
Advanced urology procedures, like testing UTI symptoms, are done best at AUS.
Patients from Morris, Joliet and New Lenox have learned the most advanced urology tests for UTI symptoms are done at AUS.
Never a long drive for accurate testing of UTI symptoms.
Patients don't have to travel more than a few minutes to test their UTI symptoms if they are coming from Alsip, Bedford Park, Blue Island, Bridgeview, Burbank, Calumet Park, Chicago Heights, Country Club Hills, Crestwood, Englewood, Glenwood, Harvey, Hickory Hills, Homer Glen, Matteson, Midlothian, Mokena, Oak Lawn, Oak Forest, Olympia Fields, Orland Hills, Park Forest, Roseland, South side, South Holland and Tinley Park.
Tests for UTI symptoms are done by the best Board-Certified Urologists.
Patients tested for UTI symptoms at AUS come from Bolingbrook, Brighten Park, Burnham, Burr Ridge, Calumet City, Countryside, Crystal Lawns, Crest Hill, Darien, Dolton, Fairmont, Frankfort, Gage Park, Gillets, Hammond, Hinsdale, Hyde Park, Ingalls Park, Lansing, Lynwood, La Grange, Lemont, Lockport, Munster, Palisades, Richton Park, Riverdale, Romeoville, Sauk Village, South Shore, South Chicago, Westmont, Whiting, Willowbrook and Woodridge.