Urinary Tract Infection (UTI) Treatments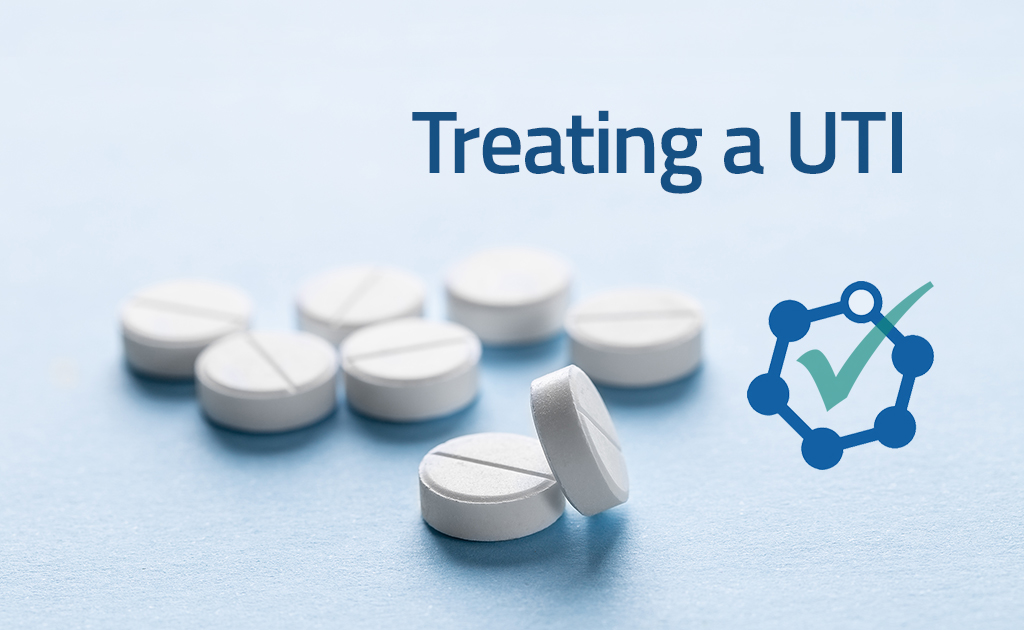 Treating a urinary tract infection (UTI)
Most urinary tract infections (UTIs) are treated with antibiotics.
Initially, a broad spectrum antibiotic that treats the most common organisms responsible for the infection, is usually employed until the culture results are available. Common medications include the penicillins, quinolones like ciprofloxacin (Cipro) and levofloxacin (Levaquin), and sulfa drugs like Bactrim. Nitrofurantoin (Macrodantin, Marcrobid) is another medication that commonly treats the majority of UTI's.
It's important to remember that urinary tract infections happen for many different reasons. Unfortunately, many traditional urine culture tests may not detect all the bacteria or even find all the possible causes for the infection. So what happens? UTIs often get treated to relieve symptoms but not for the real underlying reason - and then infections can continue to come back. At AUS, we have a unique, simple test that can help detect the bacteria that cause these infections. The comprehensive tests include sensitivity results along with identifying genes for antibiotic resistance so we can tailor your treatment to your specific infection.
Treating a UTI from Stones
If the infections are found to be due to a stone, obstruction, or other anatomic problem, correction of the problem with surgery is often required to help prevent future infections.
Treating a UTI in Post-Menopausal Women
In post-menopausal women, decreased estrogen levels can lead to dryness around the urethra and an increase in bacteria sticking to the tissue. Topical estrogen can help to prevent bacteria from adhering to the urethra.
Treating a UTI from other causes
In some patients, recurrent infections occur without a clearly identifiable cause and then patients may be put on prophylactic antibiotics which are a low, daily dose, to help prevent infection. This is rare as our Guidance® UTI Test more accurately identifies not only the more common bacteria, but also the uncommon bacteria that other available tests would not detect - including fungi and viruses.
Don't let a UTI treatment drag out longer than it should. And make sure it won't come back.
UTIs are extremely uncomfortable and the last thing you want is to be waiting around for results to come back to get a diagnosis and treatment plan.
Fortunately, AUS has its own lab, so we are able to provide results three to four times faster than most. And with 17 Board-Certified Urologists at 7 different locations, we can even get you in quicker.
At AUS, we can get your UTI treated - not only faster than others, but in the right way where it won't come back.
Call us today or request a UTI appointment below.
UTI tests must be done in person at one of our clinics.
Urinary Tract Infection Treatments from AUS are in Southside Chicago and Northwest Indiana.
UTI Treatments from AUS can be performed quickly at any of our AUS offices. They are conveniently located in Chicago, Chicago Ridge, Evergreen Park, Homewood, Orland Park, Palos Hills and Highland, Indiana.
Advanced urology treatments, like ones for UTIs, are done best at AUS.
Patients from Morris, Joliet and New Lenox have learned the most advanced urology treatments are done at AUS.
Never a long drive for UTI Treatments.
Patients don't have to travel more than a few minutes for Urinary Tract Infection treatments if they are coming from Alsip, Bedford Park, Blue Island, Bridgeview, Burbank, Calumet Park, Chicago Heights, Country Club Hills, Crestwood, Englewood, Glenwood, Harvey, Hickory Hills, Homer Glen, Matteson, Midlothian, Mokena, Oak Lawn, Oak Forest, Olympia Fields, Orland Hills, Park Forest, Roseland, South side, South Holland and Tinley Park.
UTI Treatments at AUS are done by the best Board-Certified Urologists.
Patients who get UTI Treatments from AUS come from Bolingbrook, Brighten Park, Burnham, Burr Ridge, Calumet City, Countryside, Crystal Lawns, Crest Hill, Darien, Dolton, Fairmont, Frankfort, Gage Park, Gillets, Hammond, Hinsdale, Hyde Park, Ingalls Park, Lansing, Lynwood, La Grange, Lemont, Lockport, Munster, Palisades, Richton Park, Riverdale, Romeoville, Sauk Village, South Shore, South Chicago, Westmont, Whiting, Willowbrook and Woodridge.