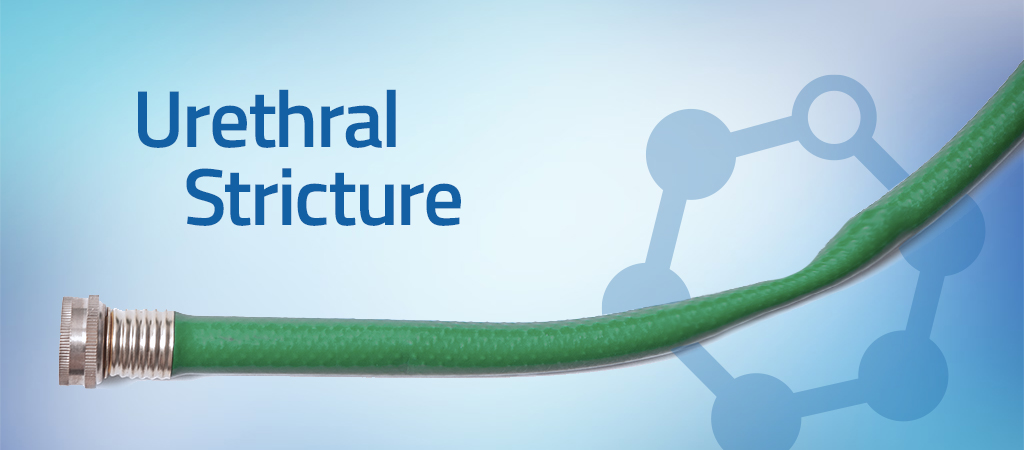 The urethra's main job in men and women is to pass urine outside the body. This thin tube also has an important role in ejaculation for men. Now think of your urethra like a garden hose. When there is a kink or narrowing along the hose, no matter how short or long, the flow is reduced. When a scar from swelling, injury or infection blocks or slows the flow of urine in this tube, it is called a urethral stricture.
Men are more likely to have a urethral disease or injury because of their longer urethra. For this reason, strictures are more common in men. They are rare in women and in infants.
The narrowing or blockage in the urethra from a urethral stricture can cause bothersome urinary symptoms such as incomplete bladder emptying, weak urinary stream, or infections. Some people feel pain with a urethral stricture.
Strictures can result from prior infection, especially sexually transmitted diseases like Gonorrhea or Chlamydia. They can also come from prior injuries such as trauma from a car or bike accident, or from a prior surgery.
When a stricture is narrow enough to decrease urine flow, you will have symptoms. Problems with urinating, UTIs, and swelling or infections of the prostate may occur. Severe blockage that lasts a long time can damage the kidneys as well as the bladder.
Some signs of a urethral stricture are:
Bloody or dark urine.
Blood in semen.
Slow or decreased urine stream.
Urine stream spraying.
Pain with urinating.
Abdominal pain.
Urethral leaking.
UTIs in men.
Swelling of the penis.
Loss of bladder control.
There are many options depending on the size of the blockage and how much scar tissue is involved.
Treatments include:
Dilation – enlarging the stricture with gradual stretching
Urethrotomy – cutting the stricture with a laser or knife through a scope
Open surgery – surgical removal of the stricture with reconnection and reconstruction, possibly with grafts (urethroplasty)
There are no available drugs to help treat strictures.
Without treatment, you will continue to have problems with voiding. Urinary and/or testicular infections and stones could develop. Also, there is a risk of urinary retention (when you can't pass urine), which could lead to an enlarged bladder and kidney problems.
If you are already seeing, or want to see a specific board-certified urologist at AUS, please let us know and we will find their quickest appointment possible. If not, we are happy to help you find one that best fits your criteria, such as location, urgency of appointment or even personality.
Urethral Stricture urologists at AUS are in Southside Chicago and Northwest Indiana.
Guidance UTI test can be performed quickly at any of our AUS offices. They are conveniently located in Chicago Ridge, Evergreen Park, Homewood, Orland Park and Palos Hills.
Advanced urology treatments for urethral strictures are done best at AUS.
Patients from Morris, Joliet and New Lenox have learned the most advanced urology treatments for a urethral stricture is done at AUS. Patients don't have to travel far coming from Alsip, Bedford Park, Blue Island, Bridgeview, Burbank, Calumet Park, Chicago Heights, Country Club Hills, Crestwood, Englewood, Glenwood, Harvey, Hickory Hills, Homer Glen. The same for Matteson, Midlothian, Mokena, Oak Lawn, Oak Forest, Olympia Fields, Orland Hills, Park Forest, Roseland, South side, South Holland and Tinley Park.
Urethral Stricture treatments by the best Board-Certified Urologists.
Urethral stricture treatments done at AUS come from Bolingbrook, Brighten Park, Burnham, Burr Ridge, Calumet City, Countryside, Crystal Lawns, Crest Hill, Darien, Dolton, Fairmont, Frankfort, Gage Park, Gillets, Hammond, Hinsdale, Hyde Park, Ingalls Park, Lansing, Lynwood, La Grange, Lemont, Lockport, Munster, Palisades, Richton Park, Riverdale, Romeoville, Sauk Village, South Shore, South Chicago, Westmont, Whiting, Willowbrook and Woodridge.