Vasectomy Price & Insurance
We believe a vasectomy with AUS should be priced in a way that most everyone can, and should be able to afford.
Today, the cost of a vasectomy is no longer the issue it may be at other offices or clinics.
At AUS, we accept virtually all PPO insurance plans and have found that most insurance companies do cover the procedure.  All of our physicians are in-network as participating providers (PPO doctors) with most insurance carriers, including Blue Cross/Blue Shield. With the recent changes to what insurance plans will cover, many of our patients are finding their final price is no longer an issue at all.
At AUS, we help estimate any costs and/or out-of-pocket expenses, if any. We accept cash payments and will work with you on setting up an easy payment plan if necessary. Schedule a consultation with us.  We can work with you and your insurance company, to find out how much a vasectomy would be with your specific plan.
We also offer Nitrous Oxide Vasectomies at AUS, which many patients find as a very inexpensive way to relive stress and anxiety during the procedure.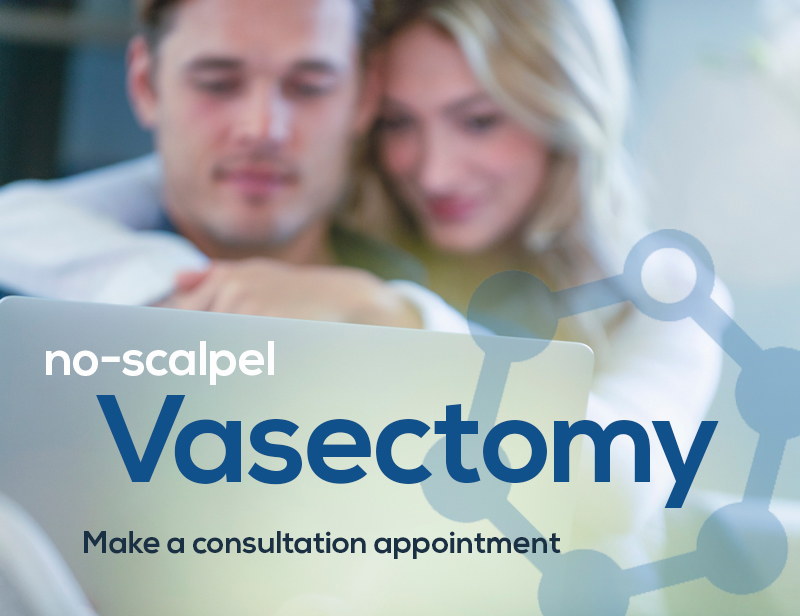 Schedule a vasectomy consultation and we'll help lower your costs
The first step is to get a consultation with one of our board-certified urologists. Before the appointment, we can start working with your insurance company to find what your costs will be. At the actual appointment, the urologist will take the time to answer all your questions and take you through what you can expect. Don't be afraid to ask about anything you're wondering about – we've heard everything.
The consultation can be done discretely, either in person at any one of our offices or as a Telehealth appointment from the privacy and convenience of your home.
Although legally you may not be required to have the consent of your wife or partner, a vasectomy (or any contraceptive choice) should be best decided as a couple. This is one decision that you may not want to make on your own. We encourage your partner to be a part and participate in the consultation visit with you, so that you can both ask questions.
We know that most people are extremely busy with work and family life. And hey, there's not many people who like making a bunch of trips to the doctor. Associated Urological Specialists (AUS) offers the option for having a consultation and a no scalpel vasectomy done in the same day. The consultation part can be done in person or by a Telehealth appointment, but obviously the procedure needs to be done at our office.
The Top Vasectomy Clinics in Southside Chicago and Northwest Indiana.
No-scalpel vasectomies are done safely, with all COVID-19 precautions, at our AUS offices. They are conveniently located in Chicago, Chicago Ridge, Evergreen Park (consultation appointments only), Homewood, Orland Park, Palos Hills and Highland, Indiana.
The most advanced and affordable vasectomy procedures, are done at AUS.
Not a long drive for a safe, affordable vasectomy.
Patients don't have to travel more than a few minutes for a no-scalpel vasectomy if they are coming from Alsip, Bedford Park, Blue Island, Bridgeview, Burbank, Calumet Park, Chicago Heights, Country Club Hills, Crestwood, Englewood, Glenwood, Harvey, Hickory Hills, Homer Glen, Matteson, Midlothian, Mokena, Oak Lawn, Oak Forest, Olympia Fields, Orland Hills, Park Forest, Roseland, South side, South Holland and Tinley Park.
Safe, affordable vasectomies done by Board-Certified Urologists.
Patients for a no-scalpel vasectomy at AUS come from Bolingbrook, Brighten Park, Burnham, Burr Ridge, Calumet City, Countryside, Crystal Lawns, Crest Hill, Darien, Dolton, Fairmont, Frankfort, Gage Park, Gillets, Hammond, Hinsdale, Hyde Park, Ingalls Park, Lansing, Lynwood, La Grange, Lemont, Lockport, Munster, Palisades, Richton Park, Riverdale, Romeoville, Sauk Village, South Shore, South Chicago, Westmont, Whiting, Willowbrook and Woodridge.