A vasectomy is a minor surgical procedure that makes a man permanently unable to father a child by keeping the sperm out of semen. The vasectomy procedure blocks, or closes off, the tubes (called vas deferens) that deliver sperm from the testes. This way, the sperm is never mixed with the seminal fluid. It is usually performed as a means of contraception.
About 50 million men worldwide have had a vasectomy, and approximately 500,000 men in the United States undergo the procedure each year. They are less invasive than a tubal ligation (i.e., the procedure used to prevent a woman's eggs from reaching the uterus). Besides tubal ligation and oral contraceptives (birth control pills), the vasectomy is the most common form of birth control among American married couples.
For your comfort and convenience, vasectomy procedures are performed in our safe, private offices. Our patients find this a much more relaxing environment than being at a hospital or surgical center.
While there are many methods used to perform a vasectomy, all 17 of the Board-Certified Urologists at Associated Urological Specialists (AUS) use a No Scalpel method. It is a very common, highly effective method that doesn't affect a man's sexual function. And to help ease stress and anxiety, AUS offers nitrous oxide during your procedure as well.
The most frequently asked questions about vasectomies all in one video.
In this video, Dr. Herbert User here at AUS, discusses everything a guy needs to know about a vasectomy. He covers what the terms 'no-snip', 'no-scalpel' or 'no-cut' really mean. He describes how the procedure can be virtually pain free, especially with the use of anesthesia, Valium and/or Nitroux Oxide. He also discusses the importance of having a qualified, board-certified urologist perform it.
Schedule a vasectomy consultation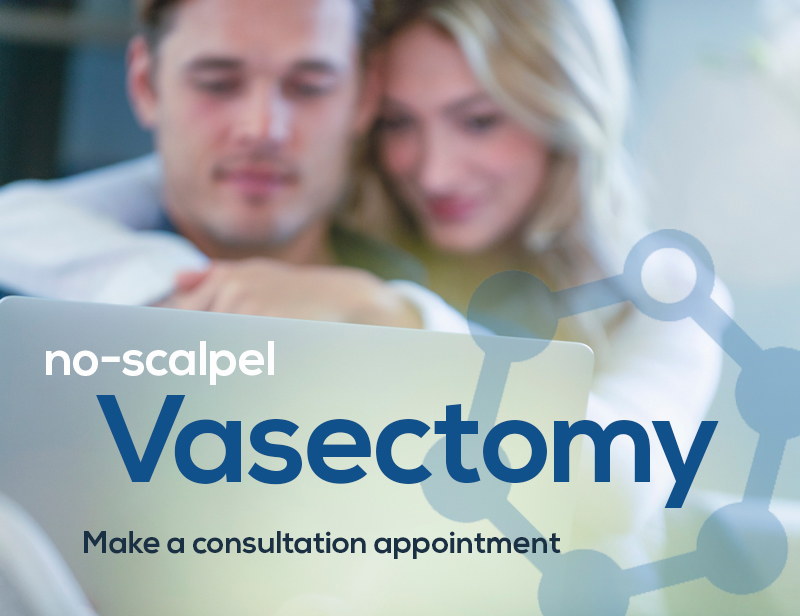 The first step is to get a consultation with one of our board-certified urologists. They will take the time to answer all your questions and take you through what you can expect before and after the procedure. It's a great time to ask any questions you may have. Don't be afraid to ask about anything you're wondering about – we've heard everything.
The consultation can be done discretely, either in person at any one of our offices or as a Telehealth appointment from the privacy and convenience of your home.
Although legally you may not be required to have the consent of your wife or partner, a vasectomy (or any contraceptive choice) should be best decided as a couple. This is one decision that you may not want to make on your own. We encourage your partner to be a part and participate in the consultation visit with you, so that you can both ask questions.
We know that most people are extremely busy with work and family life. And hey, there's not many people who like making a bunch of trips to the doctor. Associated Urological Specialists (AUS) offers the option for having a consultation and a no scalpel vasectomy done in the same day. The consultation part can be done in person or by a Telehealth appointment, but obviously the procedure needs to be done at our office.
The Top Vasectomy Clinics in Southside Chicago and Northwest Indiana.
No-scalpel vasectomies are done safely, with all COVID-19 precautions, at our AUS offices. They are conveniently located in Chicago, Chicago Ridge, Evergreen Park (consultation appointments only), Homewood, Orland Park, Palos Hills and Highland, Indiana.
The most advanced urology procedures are done at AUS.
Never a long drive for no scalpel vasectomies.
Patients don't have to travel more than a few minutes for a no-scalpel vasectomy if they are coming from Alsip, Bedford Park, Blue Island, Bridgeview, Burbank, Calumet Park, Chicago Heights, Country Club Hills, Crestwood, Englewood, Glenwood, Harvey, Hickory Hills, Homer Glen, Matteson, Midlothian, Mokena, Oak Lawn, Oak Forest, Olympia Fields, Orland Hills, Park Forest, Roseland, South side, South Holland and Tinley Park.
No-scalpel vasectomies done by advanced, Board-Certified Urologists.
Patients for a no-scalpel vasectomy at AUS come from Bolingbrook, Brighten Park, Burnham, Burr Ridge, Calumet City, Countryside, Crystal Lawns, Crest Hill, Darien, Dolton, Fairmont, Frankfort, Gage Park, Gillets, Hammond, Hinsdale, Hyde Park, Ingalls Park, Lansing, Lynwood, La Grange, Lemont, Lockport, Munster, Palisades, Richton Park, Riverdale, Romeoville, Sauk Village, South Shore, South Chicago, Westmont, Whiting, Willowbrook and Woodridge.