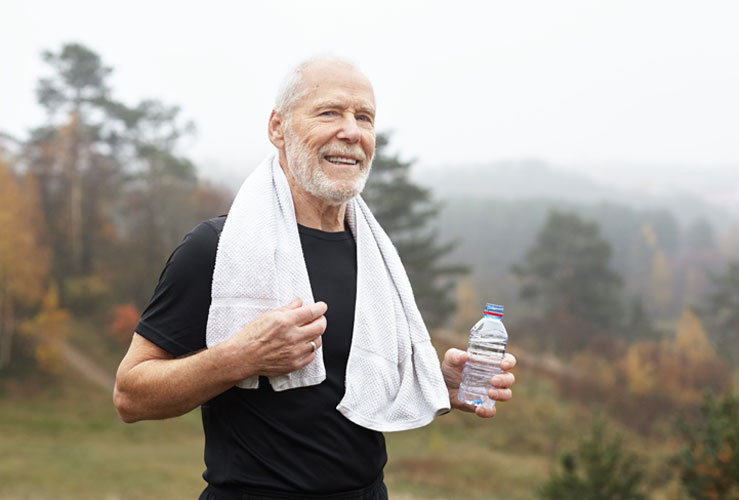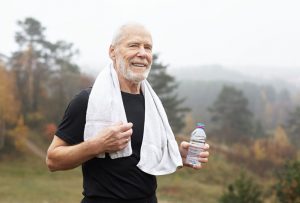 For men with BPH (Benign Prostatic Hyperplasia), maintaining a healthy, properly functioning bladder is key to long-term health and well-being. Your bladder's ability to "pump" urine out of the body is directly related to BPH Symptoms like frequency (going often), nocturia (going often at night), hesitancy (trouble starting), poor stream, and dribbling.
Depending on the health of your bladder, your symptoms and your overall health, you and your urologist will determine the best options to treat your prostate. To help find the best options, it is important to understand how your bladder is functioning during your void. The non-invasive UroCuff Test can provide better answers about your symptoms.
What is The UroCuff Test?
The UroCuff Test provides your urologist with information about your bladder function to better understand the causes of your symptoms. The UroCuff is a non-invasive diagnostic test for male urinary disorders (LUTS). This test allows your urologist to collect important data about your bladder function while you urinate.
How It Works
The UroCuff Test measures the amount of pressure generated by your bladder, your urine flow rate and amount of urine that you void.
A small cuff is discretely fitted to the penis.
Patient begins to void into a flow meter.
The cuff inflates until flow is reduced or interrupted.
Cuff rapidly deflates, allowing flow to resume.
Cycle repeats until the patient is empty.
Bladder function is determined from interruption pressure vs. flow rate.
---
Preparing for the Test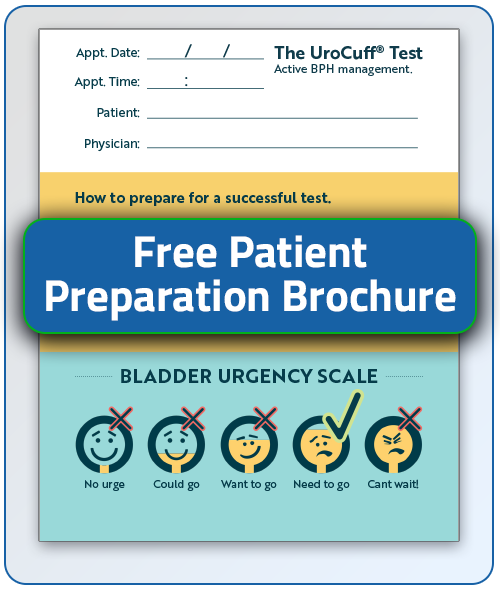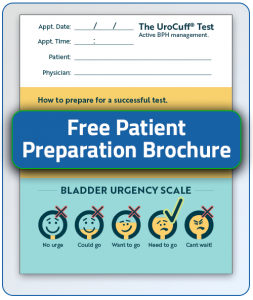 It is important that you arrive at your doctor's office with a comfortably full bladder. You should feel something like the "Need to go" face on the Urgency Scale shown here. If you need more information, click on the image of the brochure provided here to download instructions on "How to prepare for a successful UroCuff Test."
Simply follow the instructions provided below to ensure that your time in the doctor's office goes smoothly.
Drink 32 oz. of water 1 hour before your appointment.
Arrive at doctor's office 10 minutes before your appointment.
Arrive with a comfortably full bladder as shown by the orange face on Urgency Scale.
Check in at the reception desk. Let them know that you are scheduled for a UroCuff Test and communicate how full your bladder is.
DO NOT go to the bathroom before your test (you need a full bladder).
Wait in the waiting room for a clinician to collect you for your UroCuff test.
---
Here's Some Of Our Most Frequently Asked Questions About UroCuff
Download our Free Patient Preparation PDF Brochure by clicking the image above.
UroCuff Tests for BPH at AUS are in Southside Chicago and Northwest Indiana.
UroCuff Test appointments can be made quickly at any of our AUS offices. They are conveniently located in Chicago Ridge, Evergreen Park, Homewood, Orland Park and Palos Hills.
Advanced urology appointments for UroCuff Tests, are done best at AUS.
Patients from Morris, Joliet and New Lenox have learned the most advanced urology appointments testing for Enlarged Prostates (BPH) are at AUS.
Never a long drive for a UroCuff Bladder Test.
Patients don't have to travel more than a few minutes for a UroCuff Test appointment, if they are coming from Alsip, Bedford Park, Blue Island, Bridgeview, Burbank, Calumet Park, Chicago Heights, Country Club Hills, Crestwood, Englewood, Glenwood, Harvey, Hickory Hills, Homer Glen, Matteson, Midlothian, Mokena, Oak Lawn, Oak Forest, Olympia Fields, Orland Hills, Park Forest, Roseland, South side, South Holland and Tinley Park.
UroCuff Bladder Test appointments are done by the best Board-Certified Urologists.
UroCuff Test appointments at AUS can come from Bolingbrook, Brighten Park, Burnham, Burr Ridge, Calumet City, Countryside, Crystal Lawns, Crest Hill, Darien, Dolton, Fairmont, Frankfort, Gage Park, Gillets, Hammond, Hinsdale, Hyde Park, Ingalls Park, Lansing, Lynwood, La Grange, Lemont, Lockport, Munster, Palisades, Richton Park, Riverdale, Romeoville, Sauk Village, South Shore, South Chicago, Westmont, Whiting, Willowbrook and Woodridge.