Rezūm - Water Vapor Therapy for BPH
Rezūm Water Therapy is one of the treatments offered at Associated Urological Specialists for BPH. This minimally invasive treatment uses convective water vapor energy to shrink the prostate and improve urinary symptoms. This innovative treatment can be performed safely in less than 5 minutes in the office. It is performed with just a local anesthetic. A small scope is placed into the bladder and the Rezum device injects steam into the prostate. This steam subsequently leads to tissue destruction and prostate shrinkage. After the procedure, Rezum has minimal side effects. The video above gives a good overview of the procedure itself. Scroll below to view a more detailed video of the entire procedure with an overview of BPH.


First in Chicagoland. First in Midwest.
A Center of Excellence designation recognizes a high degree of experience with Rezum Water Vapor Therapy and commitment to delivering significant, lasting symptom relief to men suffering from benign prostatic hyperplasia (BPH). We are proud to have one of the leaders in this area with us and a growing number of board-certified urologists that offer this innovative procedure.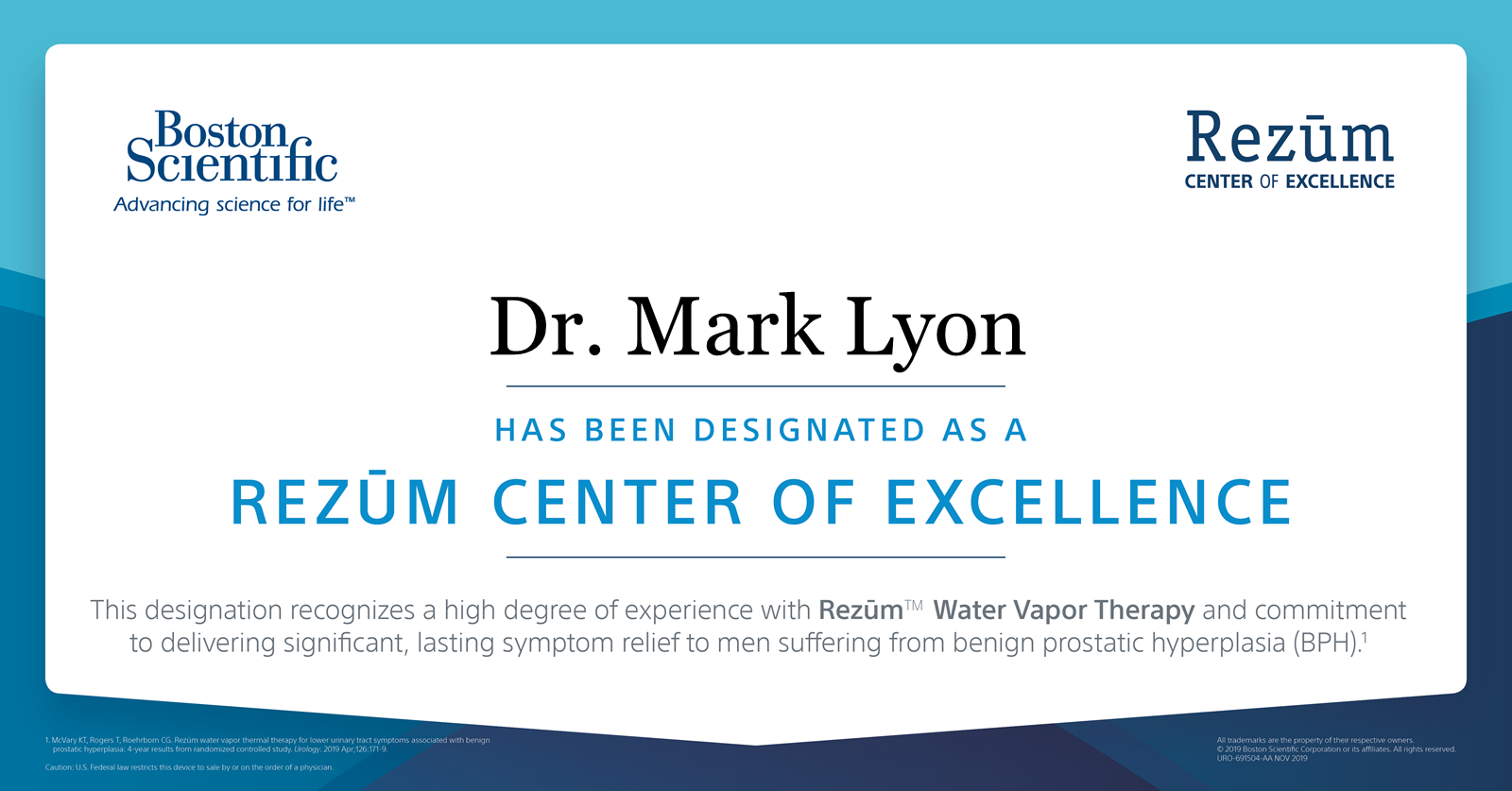 Dr. Mark Lyon at AUS has been designated as a Rezum Center of Excellence. He was the first, not only in Chicagoland but in the Midwest, to earn this distinction.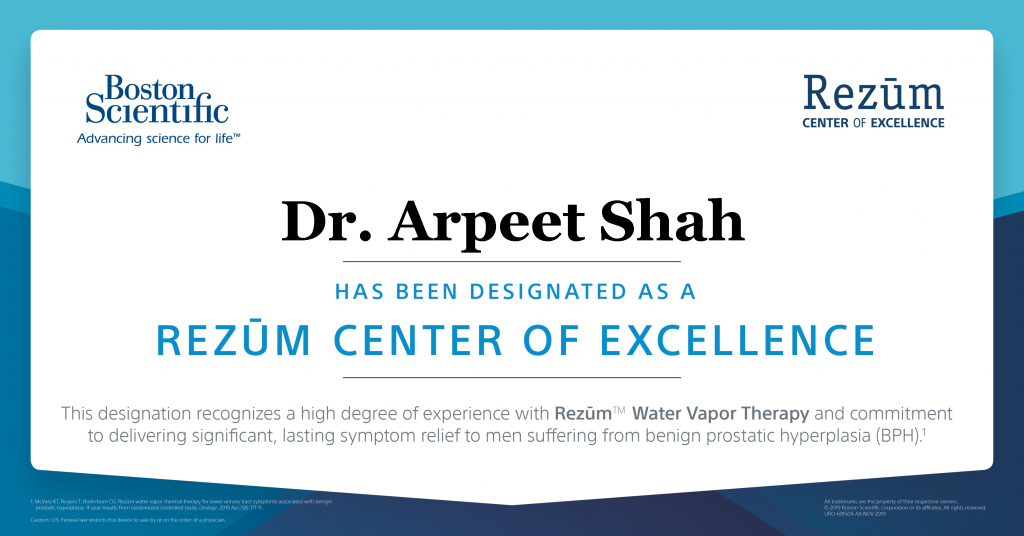 Dr. Arpeet Shah at AUS has been designated as a Rezum Center of Excellence. He becomes the second board-certified urologist at Associated Urological Specialists to earn this distinction.
Rezūm Water Vapor Therapy treats the source of BPH — your enlarged prostate.
What if there was a better way to get to the root cause of your BPH and experience significant, lasting relief?
This short, in-office procedure uses the natural energy stored in a few drops of water to shrink the prostate. So urine can flow freely. There are no incisions, no general anesthesia, and most patients return to regular activities within a few days.  And, it preserves sexual function.

Rezūm treatments at AUS are in Southside Chicago and Northwest Indiana.
Rezūm treatments can be performed quickly at any of our AUS offices. They are conveniently located in Chicago Ridge, Evergreen Park, Homewood, Orland Park and Palos Hills. This advanced urology procedure if offered to patients from Morris, Joliet and New Lenox.
Patients don't have to travel more than a few minutes for Rezum Water Therapy if they are coming from Alsip, Bedford Park, Blue Island, Bridgeview, Burbank, Calumet Park, Chicago Heights, Country Club Hills, Crestwood, Englewood, Glenwood, Harvey, Hickory Hills, Homer Glen, Matteson, Midlothian, Mokena, Oak Lawn, Oak Forest, Olympia Fields, Orland Hills, Park Forest, Roseland, South side, South Holland and Tinley Park.
Rezūm Center of Excellence at AUS. The best Board-Certified Urologists.
Patients having Rezūm treatments done at AUS come from Bolingbrook, Brighten Park, Burnham, Burr Ridge, Calumet City, Countryside, Crystal Lawns, Crest Hill, Darien, Dolton, Fairmont, Frankfort, Gage Park, Gillets, Hammond, Hinsdale, Hyde Park, Ingalls Park, Lansing, Lynwood, La Grange, Lemont, Lockport, Munster, Palisades, Richton Park, Riverdale, Romeoville, Sauk Village, South Shore, South Chicago, Westmont, Whiting, Willowbrook and Woodridge.