An advanced urology treatment for enlarged prostates and Benign Prostatic Hyperplasia (BPH).
The GreenLight Laser Therapy treatment option provides rapid relief of symptoms caused by benign prostatic hyperplasia (BPH). In many cases, GreenLight™ Laser Therapy also offers a shorter hospital stay, less catheterization time, less bleeding, and a faster recovery than traditional surgical options. With over 375,000 patients treated, it has become an effective option for those looking to regain freedom from enlarged prostate symptoms.
Who is this for?
GreenLight is suitable for most patients with an enlarged prostate. One of the benefits of GreenLight is the speed in which the treatment works. Most patients return home a few short hours after the procedure and can return to normal, non-strenuous activities within days.
How it works
During the procedure, your doctor uses a laser to rapidly heat and vaporize the excess prostate tissue, resulting in a larger channel for urine to pass through. Removing the excess tissue rapidly restores natural urine flow in most patients.
The procedure
The GreenLight laser procedure is typically performed on an outpatient and inpatient basis under general anesthesia. Most patients experience rapid relief of BPH symptoms and improvement in urine flow after the procedure. Your doctor can tell you more about the surgical procedure.
The recovery
Every patient's experience is different, and you should talk to your physician about what to expect. Patients typically go home within a few hours after the procedure. If a urinary catheter was placed in the bladder at the end of the procedure, it will typically be removed as soon as possible depending on the patient's individual health condition. However, some patients may require a catheter for a longer time. Patients can usually return to everyday activities within a short time. As with any medical procedure, complications can occur. Your doctor or urologist can discuss these with you.


Two Board-Certified Urologists at AUS have been designated as a Center of Excellence for GreenLight™ Laser Therapy treatment. The Center of Excellence designation recognizes both Dr. Grant Chavin and Dr. Ike Oguejiofor's high degree of experience with  and commitment to delivering effective, long-lasting therapy to men suffering from benign prostatic hyperplasia (BPH).
Dr. Chavin also speaks fluid Spanish for our patients who prefer to discuss their issues in that language.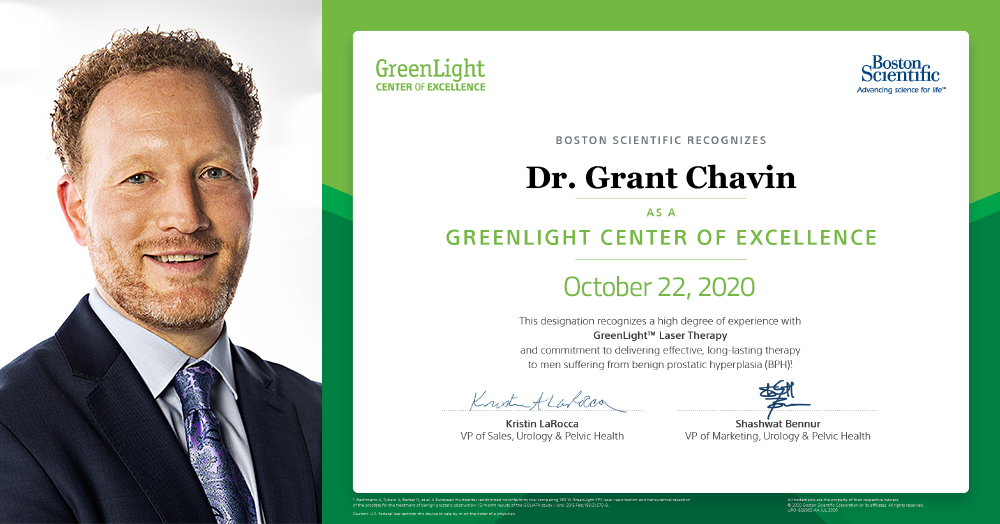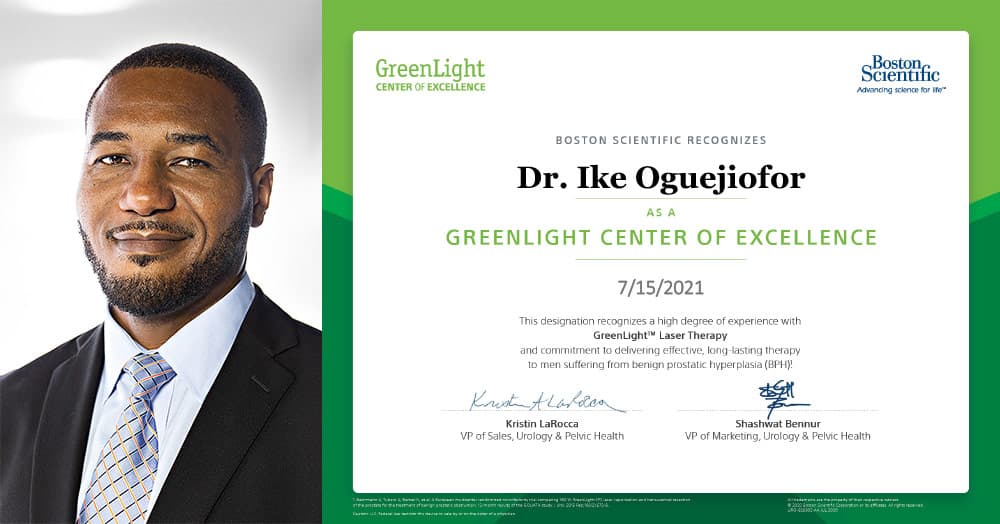 Download our GreenLight Patient Brochure by clicking the image below.
GreenLight Laser Therapy for BPH at AUS are in Southside Chicago and Northwest Indiana.
GreenLight Laser Therapy for BPH can be made quickly at any of our AUS offices. They are conveniently located in Chicago Ridge, Evergreen Park, Homewood, Orland Park and Palos Hills.
Advanced urology GreenLight Laser Therapy for BPH, are done best at AUS.
Patients from Morris, Joliet and New Lenox have learned the most advanced urology GreenLight Laser Therapy for BPH are at AUS.
Never a long drive for GreenLight Laser Therapy.
Patients don't have to travel more than a few minutes for GreenLight Laser Therapy for BPH, if they are coming from Alsip, Bedford Park, Blue Island, Bridgeview, Burbank, Calumet Park, Chicago Heights, Country Club Hills, Crestwood, Englewood, Glenwood, Harvey, Hickory Hills, Homer Glen, Matteson, Midlothian, Mokena, Oak Lawn, Oak Forest, Olympia Fields, Orland Hills, Park Forest, Roseland, South side, South Holland and Tinley Park. Even south from Peotone, Bourbonnais and Kankakee.
GreenLight Laser Therapy for BPH are done by the best Board-Certified Urologists.
GreenLight Laser Therapy for BPH at AUS can come from Bolingbrook, Brighten Park, Burnham, Burr Ridge, Calumet City, Countryside, Crystal Lawns, Crest Hill, Darien, Dolton, Fairmont, Frankfort, Gage Park, Gillets, Hammond, Hinsdale, Hyde Park, Ingalls Park, Lansing, Lynwood, La Grange, Lemont, Lockport, Munster, Palisades, Richton Park, Riverdale, Romeoville, Sauk Village, South Shore, South Chicago, Westmont, Whiting, Willowbrook and Woodridge.