Benign Prostatic Hyperplasia (BPH)
What is BPH?
Benign prostatic hyperplasia (BPH) is an enlargement of the prostate gland. It commonly occurs as men age. It can contribute to bothersome lower urinary tract symptoms (LUTS).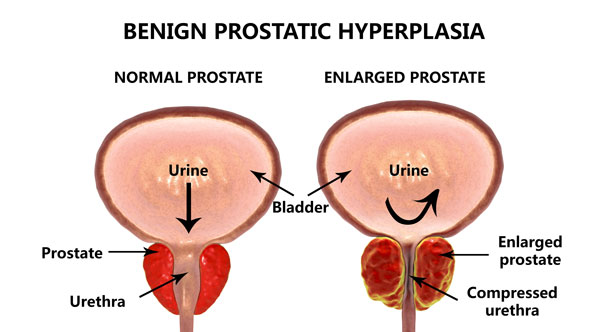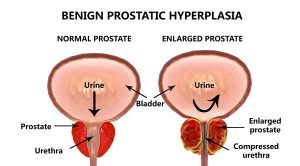 The prostate goes through two main growth cycles during a man's life. The first occurs early in puberty, when the prostate doubles in size. The second phase of growth starts around age 25 and goes on for most of the rest of a man's life. BPH most often occurs during this second growth phase.
As the prostate enlarges, it presses against the urethra. The bladder wall becomes thicker. One day, the bladder may weaken and lose the ability to empty fully, leaving some urine in the bladder. Narrowing of the urethra and urinary retention – being unable to empty the bladder fully – cause many of the problems of BPH.
BPH is benign. This means it is not cancer. It does not cause or lead to cancer. However, BPH and cancer can happen at the same time.
---
BPH is common.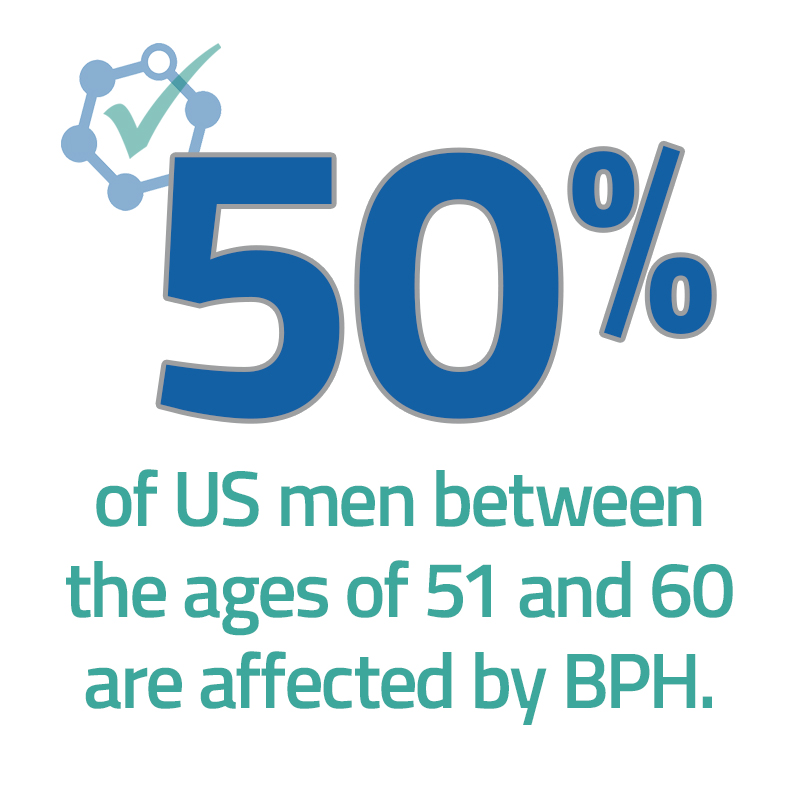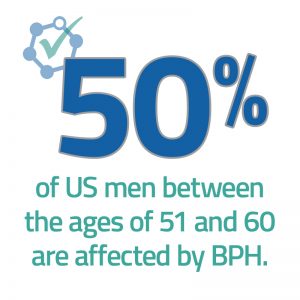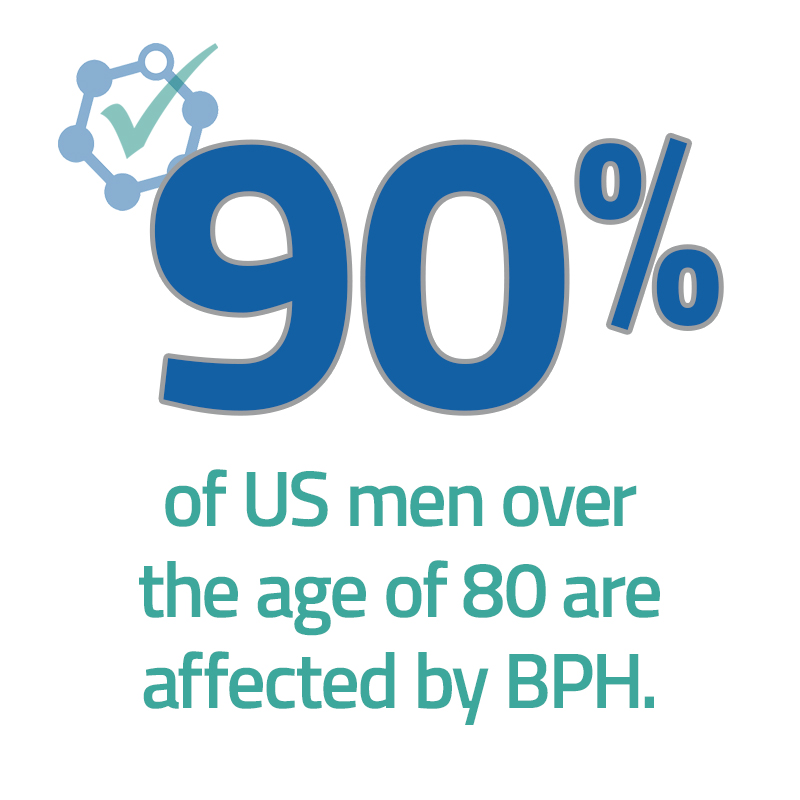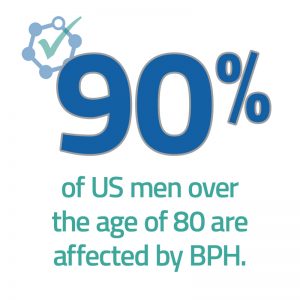 About half of all men between ages 51 and 60 have BPH. Up to 90% of men over age 80 have it.
---
What is the Prostate?
The prostate is part of the male reproductive system. It is about the size of a walnut and weighs about an ounce. The prostate is found below the bladder and in front of the rectum. It goes all the way around a tube called the urethra, which carries urine from the bladder out through the penis.
The prostate's main job is to make fluid for semen. During ejaculation, sperm made in the testicles moves to the urethra. At the same time, fluid from the prostate and the seminal vesicles also moves into the urethra. This mixture – semen – goes through the urethra and out through the penis.
When the prostate is enlarged, it can bother or block the bladder. See the symptoms of BPH here.
What are the symptoms of BPH?
BPH can cause a variety of bothersome urinary symptoms including slow urinary stream, difficulty getting started (hesitancy), incomplete bladder emptying, urinary frequency, urinary urgency, waking up at night to urinate (nocturia), and occasionally urinary dribbling or incontinence. Click here to find out more.
Click the button below to take a quick, easy assessment of your symptoms.
How is BPH diagnosed?
A detailed medical history including surveys such as the American Urological Association (AUA) Symptom Score are the most important diagnostic tool. A digital rectal exam to feel the size and texture of the prostate is also important. In addition, a urinary flow rate and the amount of urine left in the bladder after urinating (post-void residual) can be useful diagnostic tools. AUS is able to utilize UroCuff, a non-invasive diagnostic test for male urinary disorders (LUTS). In addition, a urinalysis may be done to rule out infection or possible bladder tumor as the cause of symptoms is performed and a prostate specific antigen (PSA) will often be checked to screen for prostate cancer.
If these tests are non-conclusive or if surgery is planned to treat BPH, urodynamics, cystoscopy, or prostate ultrasound may be utilized.
Watch our informative webinar presented by Dr. Herbert User discussing an Overview and Treatment Options for BPH.
Recorded July 13, 2022
Watch our informative webinar presented by Dr. Mark Lyon on the Causes, Symptoms and Treatment Options for BPH.
Recorded November 11, 2020
Enlarged Prostate appointments at AUS are in Southside Chicago and Northwest Indiana.
Enlarged Prostate appointments can be made quickly at any of our AUS offices. They are conveniently located in Chicago Ridge, Evergreen Park, Homewood, Orland Park, Chicago and Palos Hills.
Advanced urology appointments for an enlarged prostate, are done best at AUS.
Patients from Morris, Joliet and New Lenox have learned the most advanced urology appointments for Enlarged Prostates are at AUS.
Never a long drive for Enlarged Prostate appointments.
Patients don't have to travel more than a few minutes for an Enlarged Prostate appointment, if they are coming from Alsip, Bedford Park, Blue Island, Bridgeview, Burbank, Calumet Park, Chicago Heights, Country Club Hills, Crestwood, Englewood, Glenwood, Harvey, Hickory Hills, Homer Glen, Matteson, Midlothian, Mokena, Oak Lawn, Oak Forest, Olympia Fields, Orland Hills, Park Forest, Roseland, South side, South Holland and Tinley Park. Even south from Peotone, Bourbonnais and Kankakee.
Enlarged Prostate appointments are done by the best Board-Certified Urologists.
Enlarged Prostate appointments at AUS can come from Bolingbrook, Brighten Park, Burnham, Burr Ridge, Calumet City, Countryside, Crystal Lawns, Crest Hill, Darien, Dolton, Fairmont, Frankfort, Gage Park, Gillets, Hammond, Hinsdale, Hyde Park, Ingalls Park, Lansing, Lynwood, La Grange, Lemont, Lockport, Munster, Palisades, Richton Park, Riverdale, Romeoville, Sauk Village, South Shore, South Chicago, Westmont, Whiting, Willowbrook and Woodridge.