Many of the symptoms for BPH are not hard to identify. When the prostate is enlarged, it can bother or block the bladder. This can lead to a variety of bothersome urinary symptoms including slow urinary stream, difficulty getting started (hesitancy), incomplete bladder emptying, urinary frequency, urinary urgency and occasionally urinary dribbling or incontinence. Waking up at night to urinate (nocturia) is another very common symptom. This might be every 1 to 2 hours during the night.
Needing to urinate often is a common symptom of BPH
Other symptoms include:
Feeling that the bladder is full, even right after urinating
Feeling that urinating "can't wait"
A weak flow of urine
Needing to stop and start urinating several times
Trouble starting to urinate
Needing to push or strain to urinate
If BPH becomes severe, you might not be able to urinate at all. This is an emergency that must be treated right away. Contact us or schedule an appointment if you have symptoms that might be BPH. Call us right away if you have blood in your urine, pain or burning when you urinate, or if you cannot urinate.
Click the button above to get your BPH Symptom Score. It's a quick, easy way to measure the severity of your symptoms.
How BPH is diagnosed
A detailed medical history including surveys such as the American Urological Association (AUA) Symptom Score are the most important diagnostic tool. Your doctor can diagnose BPH based on
Personal or family history
A physical exam
Medical tests
A digital rectal exam to feel the size and texture of the prostate is also important. In addition, a urinary flow rate and the amount of urine left in the bladder after urinating (post-void residual) can be useful diagnostic tools. A urinalysis to rule out infection or possible bladder tumor as the cause of symptoms is performed and a prostate specific antigen (PSA) will often be checked to screen for prostate cancer. If these tests are non-conclusive or if surgery is planned to treat BPH, urodynamics, cystoscopy, or prostate ultrasound may be utilized.
BPH symptoms are common as men get older.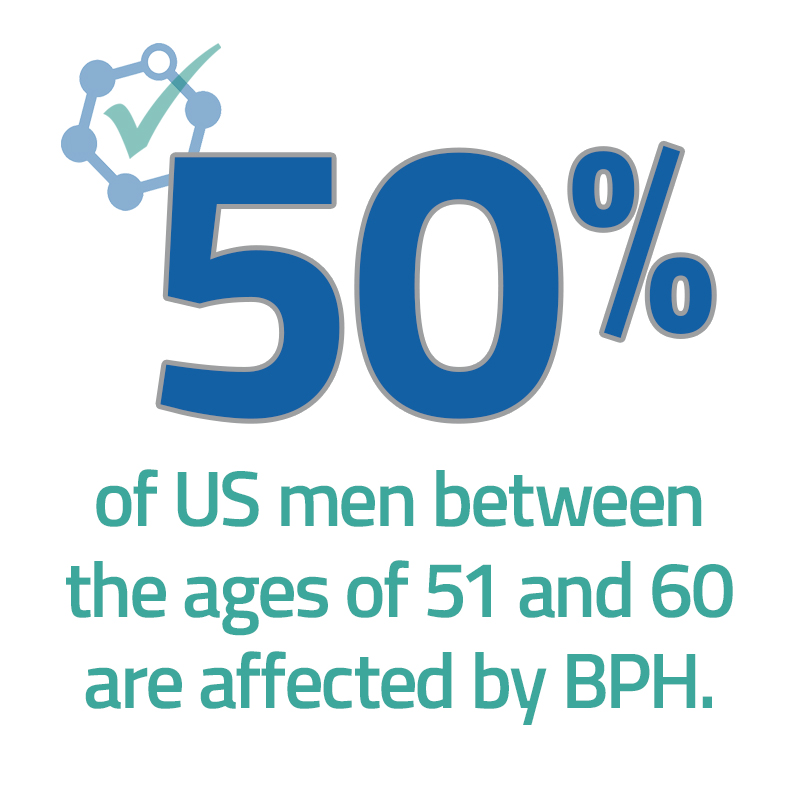 Most likely, BPH is going to happen at one point in a man's life. Usually, BPH gets worse with age. This is common.
About half of all men between ages 51 and 60 have BPH. That's how common it is.  And up to 90% of men over age 80 have it.
Aging and a family history of BPH increase a man's risk for BPH. Obesity, lack of staying active, and erectile dysfunction can also increase risk. If left untreated, BPH can cause blood in the urine and cause kidney damage. BPH can lead to bladder damage and infection. So it is important to take care of it as early as possible.
Don't make the mistake of thinking it's an old-man's problem.
Enlarged Prostate (BPH) Symptoms - AUS in Southside Chicago and Northwest Indiana.
Enlarged Prostate (BPH) Symptoms can be diagnosed quickly at any of our AUS offices. They are conveniently located in Chicago Ridge, Evergreen Park, Homewood, Orland Park and Palos Hills.
Advanced urology symptoms for an enlarged prostate (BPH), are understood best at AUS.
Patients from Morris, Joliet and New Lenox have learned the most advanced urology diagnosis for Enlarged Prostates (BPH) are at AUS. Even south from Peotone, Bourbonnais and Kankakee.
BPH Symptoms? Never a long drive for an AUS appointment.
Patients don't have to travel more than a few minutes to discuss Enlarged Prostate (BPH) symptoms, if they are coming from Alsip, Bedford Park, Blue Island, Bridgeview, Burbank, Calumet Park, Chicago Heights, Country Club Hills, Crestwood, Englewood, Glenwood, Harvey, Hickory Hills, Homer Glen, Matteson, Midlothian, Mokena, Oak Lawn, Oak Forest, Olympia Fields, Orland Hills, Park Forest, Roseland, South side, South Holland and Tinley Park.
Enlarged Prostate (BPH) symptoms are found best by AUS Board-Certified Urologists.
Patients with Enlarged Prostate (BPH) symptoms come to AUS from Bolingbrook, Brighten Park, Burnham, Burr Ridge, Calumet City, Countryside, Crystal Lawns, Crest Hill, Darien, Dolton, Fairmont, Frankfort, Gage Park, Gillets, Hammond, Hinsdale, Hyde Park, Ingalls Park, Lansing, Lynwood, La Grange, Lemont, Lockport, Munster, Palisades, Richton Park, Riverdale, Romeoville, Sauk Village, South Shore, South Chicago, Westmont, Whiting, Willowbrook and Woodridge.