Best Peotone Doctors for Enlarged Prostate
AUS Board-Certified Urologists
The best urologists to treat an enlarged prostate are near Peotone, IL.
Think you have an enlarged prostate? Associated Urological Specialists (AUS) have 17 Board-Certified urologists who have been treating patients with enlarged prostates for decades. All twelve of our AUS doctors have offices right up the street from Peotone, Illinois. They are all pictured above. Click on any of their pictures or names to find out more about each one. The most advanced urology treatments and procedures in southside Chicago or northwest Indiana, are right here with AUS in Tinley Park. And we have proof...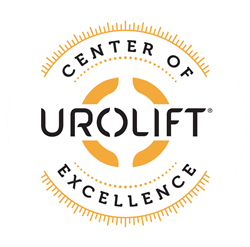 Dr. Aaron Berger, Dr. Michael Herzog, Dr. Mark Lyon, Dr. Ike Oguejiofor and Dr. Raj Patel are five Board-Certified urologists that have all been designated as a UroLift Center of Excellence. There is no other urology group or practice in the entire Midwest with that many. BPH is our speciality.  The Urolift Treatment system is just one of the many treatments AUS provides as a way to help Peotone patients with an enlarged prostate after being diagnosed with BPH.
Benign prostatic hyperplasia (BPH) is an enlargement of the prostate gland. It commonly occurs as men age. It can contribute to bothersome lower urinary tract symptoms (LUTS). We have diagnosed and treated Peotone patients with an enlarged prostate successfully for many, many years.
Seven AUS locations near Peotone for Enlarged Prostates
As you age, certain health conditions become more common. One of these conditions is benign prostatic hyperplasia, or BPH for short. Men with this condition have an enlarged prostate gland.
Signs of Benign Prostatic Hyperplasia (BPH)
BPH symptoms can be an annoying part of daily life. For some men, the symptoms are severe enough that they significantly reduce their quality of life. If you suffer from BPH, you might experience the following:
Increased need to urinate
Difficulty emptying bladder
Weak or intermittent urine stream
Urinary tract infection
Bloody urine
Disturbed sleep from urination frequency
Find out all the symptoms here.
If you're concerned about developing BPH or you think you already have it, make an appointment with our skilled urologists at Associated Urological Specialists. We offer BPH treatment and testing for patients from the Peotone, IL, area.
Take our BPH Symptom Score below and find out how severe your BPH may be.
Make an appointment today with any of our 17 board-certified urologists.
It's a short drive up the highway for an appointment near Peotone, IL. There are many convenient locations to choose from here at AUS. With 17 Board-Certified Urologists at 7 different locations, we are even able schedule a quicker appointment time than most other urology groups.